The restaurant has closed. Please refer to their Kembangan Branch (near Masjid Kassim)
Country: Singapore
Food: Sponsored
It all began when Mr Faruk says "YES, I can do it!" when everyone are skeptic about his idea of opening a HALAL Teppanyaki restaurant.This successful businessman and like minded wife Mdm Beda open this unique restaurant on their own. With help from immediate families,they are determined to see this business soar and succeed.


Mdm Beda herself is a successful businesswoman who has 3 branches of the popular "House of Balinese Traditional Massage".Her services ranging from Postnatal Massages to Jacuzzis,Scrubs,facial treatment, Ear Candling and even bridal make up artistry…By the way, if you are coming for the Teppanyaki, do take note of the next door Balinese Massage cos that is one of her branch.
Anyway back to the food story….
It has always been Mr Faruk's favourite cuisine. Having to travel to and fro for his favourite Teppanyaki in Kuala Lumpur is no feat for successful businessman like him.But being a passionate foodie in Teppanyaki himself, he wanted to bring his passion over to Singapore,to share this delicious form of "LIVE" cooking with his fellow friends,families and passionate foodies like himself.. thus Yureka is born.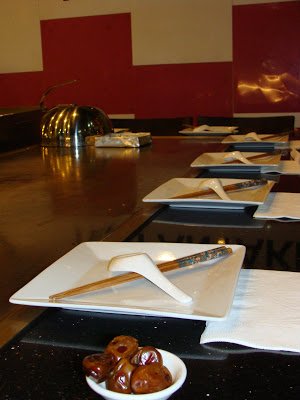 If you are not familiar with the term Teppanyaki..it's actually "Teppan"-Iron plate, "Yaki" means pan fried,grilled or broiled. To me,it means the food is freshly cooked right in front of your eyes and served really HOT and piping from the grill onto your plate. And not only that, it's like watching IRON chef whipping up their fantastic skills behind the counter. But Chef "Fancy" is off today.I was told Chef "Fancy" has some tricks up his sleeve and customers can be entertained as they chomp on the delicious food.Perhaps, it's like watching "Cirque du Soleil" in the kitchen..*smiles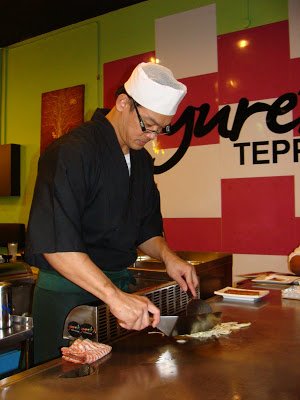 But for those who wants to enjoy their meals in silent lucidity,fret not..Chef Lee's quiet and shy demeanor is great for customers who do not want any "kitchen's hanky panky"-these type of customers just want to focus on their decent meals and rush back to office or home. As I heard some giggles from the lady crowd, I realised, this macho Chef is great to watch. Aside from his muscular beefy appearance, his culinary skills of 20 years expertise can be seen in his meticulous flipping, chopping and grilling the food on the skillet itself. Hmm, I'm impressed.My buckets of saliva are already dripping as I saw the way he cooked for the foursome guys opposite of me.
If you do have any special requests e.g less salt, more sugar or no soya sauce,no garlic whatever.. please feel free to inform the chefs, just like your own personal Chefs,they want to get to know your preferences and serve you well.Do not be shy…
As I scrutinised the menu, aside from the vast variety of Japanese food from bento set to Sushi,sashimi to Udon, yakitori and even I realised that they have seafood served in Thai cuisine (sweet sour fish,chilli crabs..), Western food ,Malay food (e.g Asam Pedas Fish head, grilled sambal sting ray) and also desserts like fudgey cakes.
Suddenly my head is swirled with many temptations. That one looked good, so is that…and confused at the myriad choices, I left it to Mr Daffi,a young ambitious Restaurant manager (also the owner's nephew) always inspired to learn new things from the F & B management to even the humble chores such as cutting veggies or even whip up some food on the menu.Great multitasker!
I learnt lots from this vibrant youth. He taught me about dashi water,goma,kelp,bonito flakes and lots more…on teppanyaki variations.He also confessed that he had been reading my blog since way back.And that whenever he need anything, he often refer to my site.Alhamdulillah,I'm glad that my site not only connects HALAL foodies of the world but also businessmen/women and suppliers and manufacturers to restaurants and all that..That is the intention isn't it? To make social network and HALAL info accessible for everyone,insya-Allah.
Well, I was first served with their inhouse favourite drink.Sumo soda. Yeah it looked like a SUMO mug. The bluish soda with a lil cherry inside. Very refreshing.

After about 5-10minutes, my "feast" soon came. I was seated alone at the Teppanyaki corner with groups of 4 or duo of crowds. Thus, all eyes are on me as I, the solo eater was served with endless plates. I wasn't bothered by their eyes because I do the same too when Chef Lee was cooking the scallops, or tenderlicious chicken right off the skillet, my eyes followed that very dish and wonder who got that lucky plate?
Well, I'm seated at the teppanyaki corner..There is another area whereby customers who do not want to eat Teppanyaki but prefer alacarte from the menu or come in a much bigger groups (more than 18 probably) wants to coagulate together instead of seating in a row at the Teppanyaki corner,can opt to do so.Soon,the chairs are all filled up with joyous laughters and cheers of birthday wishes in the air.It was fun!
Ok the food served…
The sambal sting ray is grilled and the sambal is thick and sweet with chincalok at its sides. I sense a hint of something very fragrant (like pandan or something) as I chew on the stingray.Intriguing.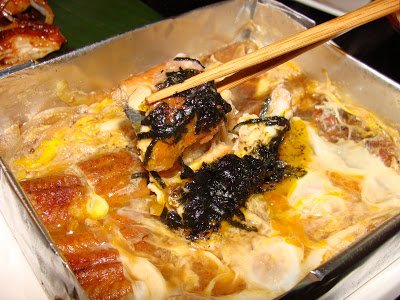 This Unagi is very different. I have never eaten it this way… in dollops of eggy teriyaki soyasauce type of gravy. It was alright.But I fear some might feel that it's too "jerlak"…or perhaps too much/too strong Japanese flavours in one dish.
You can also ask for the Unagi to be dry grilled on the teppan by the Chef. There are 3 types of sauces served-sambal, kicap cili padi(spicy sweet soya sauce) and Japanese Goma sauce (like a thin sweet peanut buttery sauce).All sauces are done fresh,inhouse.
Next is a plate of sushi and sashimi.Wasabi wasn't that hot so it's alright for newbies. I like the light tempura batter (tempura in the sushi). The vinaigred seabass is also another unique find.It's saltish, very slight sourish…an acquired taste…as if it was cured or something. I suggest you eat that with the sushi rice. It's better…I kinda like it's unique flavour.
If you wonder how they can make sushi without mirin (alcohol), I asked Daffi the same question. He said there are such products in the market from Malaysia- in which they replicate the mirin taste but ensure that there is no alcoholic content in it.
As for the overall Japanese food concept, it's not really the authentic Japanese taste, its more of a fusion Japanese food with local tastebuds taken into consideration. So for sure, your tongue will not be "culture shock" when you first attempt eating it!
The Teriyaki Chicken is my favourite. Light crispy on the outer layer and tender with the tastyness of teryaki marination.Ooh… I like!
Next favourite is the Venison. I have stared at the frozen venison in Mustafa Centre countless times. Wondering whether I should try cooking them or not. I thought deer meat are tough and chewy. Although I've tasted them before in Malaysia, I picture them already prepared cos to cook it might painstakingly take hours! But again,that is a no-fact based perception,just some wild imagination which I concoct out nowhere *grins

As Chef Lee whipped these Venison meat for me in mere minutes, I was surprised at its tenderness..juicyness and tastyness with just basic ingredients to accompany it. Eating them with the crunchy beansprouts, I lost track of time and outstayed my invitation.It seems one by one is leaving but still this "lone ranger" is still eating ..and continuously munching in her own happy world.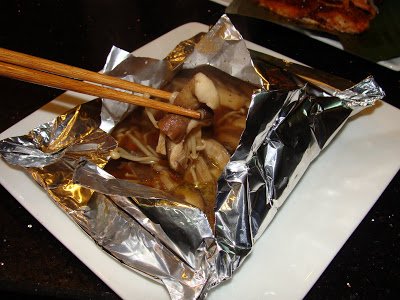 The sauteed mushroom is something like slices of moisty mushrooms (of various kinds)in buttery garlicky peppery juice. I like! Simple but a delight.

And I ended the whole feast with a warm green tea (sugarless) and a glass of Laziza! (Ya know the advertisement on the radio about Laziza drink just before the azan? This is the drink they are talking about!!! *excited) It's a non-alcoholic bubbly malt drink. Unlike the non-alcoholic Bavaria or Bintang drink, this is very light, and not so sweet as expected and it is also not so "malty" as the above mentioned contenders.

BURP!!! I'm stretching like a wild cat having eating her fill within 2 hours….I ended up being the last customer to leave. I bet if they are not closing, I would linger around cos its a family restaurant and I feel like family. So bring your mama, daddy, granny, grandkids, niece and nephews…this is the restaurant that can accomodate to everyone's tastebuds. Everything under one roof.

For Ramadan Promotion: There are Twin set for 2 people ($39.90)and another for 4 people ($80). I heard there are chilli crabs and garouper included in any one of the menu. Will update you guys on the promo, insya-Allah soon. Any queries, please call them directly.

C'mon, do try their TEPPANYAKI, it is HALAL and it is here now….No need to go over to Malaysia anymore.Best part is…there is no GST and service charge!
Psst…don't forget…if you ever need a massage before dining, just say hello to next door Balinese Massage(same family).
Location:
Yureka Teppanyaki
Muslim-Owned
No 5 Thong Soon Ave
Singapore City,
Phone:+65 6458 4678
Tues – Thurs:11:00 am – 10:30 pm
Fri:3:00 pm – 11:30 pm
Sat:11:00 am – 11:30 pm
Sun:11:00 am – 10:30 pm
Gratitude:
Thank you to Yureka Teppanyaki for this wonderful invite. Especially to Mr Positivity -Mr Faruk ,the chirpy youthful looking Mdm Beda and very hands-on and curious Daffi for their wonderful hospitality.Not forgetting Chef Lee for the wonderful food and the staff such as Rodzman and others…Thank you!
Disclaimer: Food featured are subject to my personal taste. I hold no responsibility for your body's gastronomical adventure.All food shown are either from Halal-certified or Muslim owned establishments(with no liquour/alcoholic beverages).I will try my utmost best to update and maintain the relevant information shown,insya-Allah…but your body,your responsibility.Do ensure that the Halal-certificates are up-to-date,renewed (not expired) and displayed promptly before ordering/consuming. If in doubt,always ask the staff with a smile.Remember: Use ur senses especially your heart.But mainly, ask your iman (faith). Don't assume: A headdress/scarf lady is not equal to HALAL. "No pork no lard" signage is not equal to HALAL. A crescent moon and star symbol is not equal to HALAL. Not all Mediterranean (e.g Turkish kebab), Malaysian, Indonesian cuisines (especially Nasi Padang food) is HALAL. Whatever franchise that is HALAL in Malaysia,Indonesia or in any muslim country does not mean it is HALAL in Singapore or anywhere else. Your body,your responsibility, check its HALAL authenticity. More on disclaimer?Thank you for your kind attention.
(Visited 77 times, 1 visits today)