The final stop for the day is Larkin Stadium. Last year, I was overwhelmed by the many stalls that they had….and so I came here for the FINALE!
They have food from Johor , Kelantan food (Nasi kerabu,nasi dagang) , Penang (laksa), Kampung food…and lots more!
Kampung dishes

Famous Mee rebus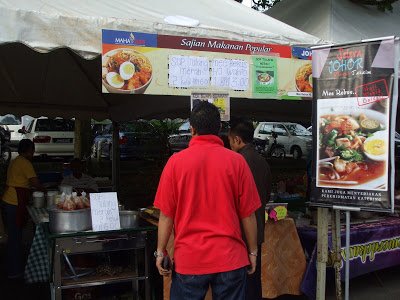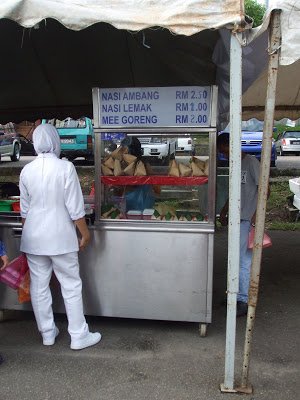 Roasted chicken with Honey (RM14 per bird)

Sambal grilled fish and seafood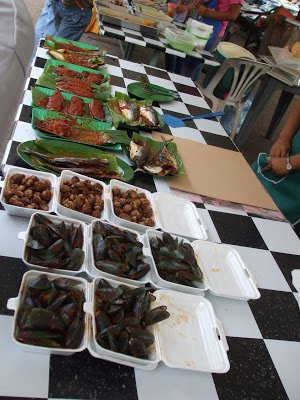 Steamed nasi lemak (expected it to be soft and fluffy rice but taste of rice and sambal is average, the fried chicken is YUMMY!)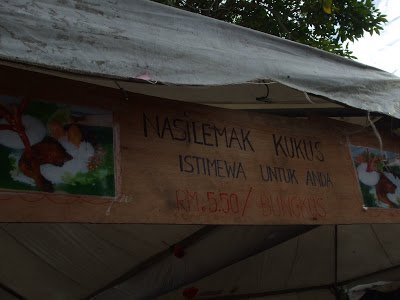 Nasi ambang dishes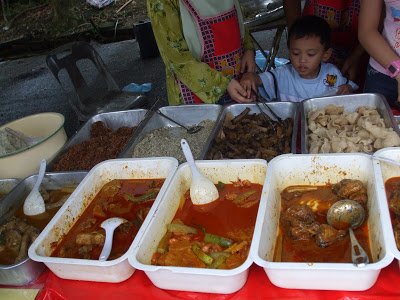 Satar and fresh coconut jelly

Doner Kebab (the aromatic smell of fresh kebab, yum!)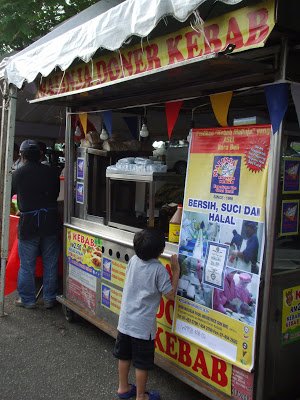 Quail birds fresh from farm, there are fried Quail, Grilled Quail, Quail botok-botok, and nasi lemak with Quail….

fried Quail birds

Grilled Quail birds

Nasi Kerabu and Dagang (Kelantan food)

More kampung dishes

Nasi/Daging kawah (Kelantan food)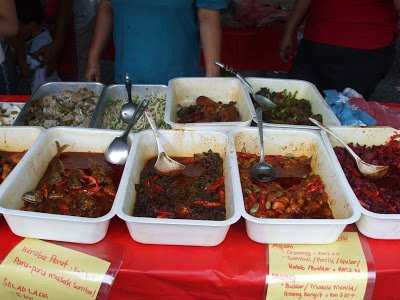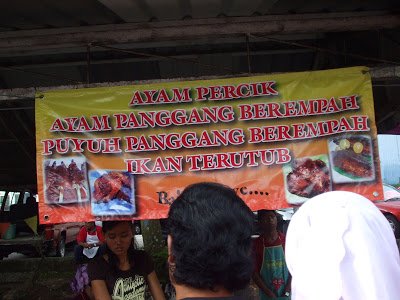 Roasted quarter chicken (affordable but more expensive @ RM4.50) Normally roasted chicken is RM 14, so if quarter is RM 4.50 thus one whole bird would cost RM18.

I realised ayam percik has increased in price compared to last year bazaar.

Dates and ZAM-ZAM water from Mecca


Hot and piping Murtabak @ RM3 each
More Raya kuehs

Sugarcane juice (no lime/lemon included) RM2 per bottle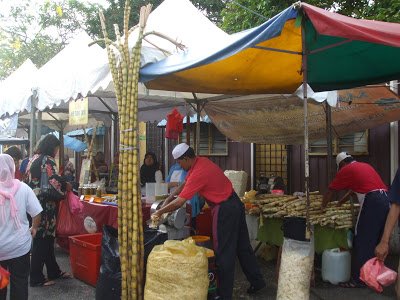 Sweet assortment of jelly to cool down the body…and fried fritters

more Malay traditional kuehs

Wanted to go for more bazaars-hopping but "tak larat" (tired) so… it's time to head home …home sweet home with all the goodies…to break fast..YIPEE!
Read about my posts on last year Ramadhan bazaar at Larkin Stadium:
http://linamasrina.com/2007/09/bazaar-ramadhan-near-larkin-stadium-1.html
http://linamasrina.com/2007/09/larkin-stadium-bazaar-2.html
There are other Ramadhan bazaars that I spotted from afar:
1)(2nd link) Taman Perling Giant has a mini bazaar but if u proceed straight on perhaps 100-200m away, there is an even bigger and longer bazaar there….


2)KIP mart bazaar


3) Plaza Larkin (near Larkin bus terminal)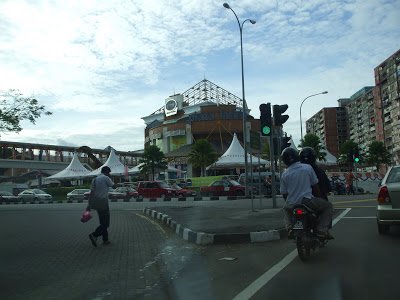 p.s: This year , I try not to take shots of people's faces, because some don't like it…so if u see lots of headless figures, so sorry….
Anyway, I'm having a bird feast @ home!
3 madura wild birds (smallest top 3)and 3 quail birds..

The Ayam percik family (from different stalls)
This kathira drink has mini selaseh seeds, very mini….

Sweet Custard

Yummy murtabak

So far, I love the Madura birds, murtabaks other than that, I think Shah Alam Bazaar would still be the BEST! I miss those lamb skewer kebab , those quail goreng berempah (much tastier) and lots more!!
http://linamasrina.com/2007/09/where-did-my-feet-take-me-today-1.html
http://linamasrina.com/2007/09/where-did-my-feet-take-me-today-2_25.html
http://linamasrina.com/2007/09/where-did-my-feet-take-me-today-2.html
And if u need ideas where to break fast/iftar, click below (taken in 2007)
http://putri-berendam.blogspot.com/search?q=ramadan
(Visited 41 times, 1 visits today)