I knew nothing about Austria (my new 42nd country)…
I did not even research as I spontaneously hop on a train to this country…
I googled when reached and reading this in a glance, I felt so proud of Austrians
👏
This country was never in my plan but somehow the soul knows it's a "must-stop". (Woohoo 42nd country
🎉
🎊
!!)
It is where the next warrior angel lives…
He is young, always-smiling with so much love…
We were in purification together
#
camp2
#
EWTC2016
and we supported each other unconditionally for the growth in the beautiful processes…
A writer who understands that every word has its own persona and vibe. (Words do have "soul", you know?
😉
)
His unconditional love for the "World's Kids" is truly amazing…
And yes…a social entrepreneur who truly cares about "refugees"-giving them shelter, food and services from the heart. (No wonder he treated me like a refugee
🙄
)
He may not talk much but when he does, I'm often inspired by his words…
Anyway…
When he fetched me, I was exhausted but when I saw him, my tiredness was gone and I got rejuvenated by the loving embrace this warrior gave me.
We did some road trips, do a bit of sightseeing and also tasted the local flavours….

But the drive to his home was so long that I was beginning to think, he wanted to "kidnap" me. lol.



His home is a beautiful farm house by the forest, no wonder, there is no one in sight.


When I first reached Austria, the weather was cloudy with light intermittent rain and so was my mood…and then as I rejuvenate myself and got refreshed by the natural surroundings and countryside, my mood got "cured" and so was the weather…
The sun then peeks through the cloud with it's fun, mischievous grin whenever I wake up….
So if you wanna know my mood, look at the weather of the country I visited and vice-versa….
😂
And of course "tummy pit stops" are a must!
What else can I ask for?
Truly beautiful experience…
Gratitude
🙏🏻
Thank you "always-smiling" Martin Hahn and cheerful daddy for inviting me to your beautiful home and sharing a piece of your life with me…
Thank you, Martin for teaching me the "art of thinking nothing" which men often do
😜
😆
(I just read about it in Mars and Venus book)
As for the experience, I cannot say anything for fear it will "tarni
sh" the essence of its awesomeness…
Thank you for this "soul" book. It was "calling" out my name the first time I laid my eyes on it
…
Thank you Traveller of the World…
🙏🏻
thank you for infecting us with your awesomeness and inspired us to do the same…
Food is amazing in his home…. *vegan
In Martin's home, no planning-I just make do with what we have and I carried a pack of Asian spices whenever I felt like it especially when traveling…
And so I cooked some simple vegetarian stuff but with a fiery aftertaste
😈
1)Pineapple fried rice (with Birdseye chillies) and…
2)Seasonal vegetables with tofu cooked in spicy creamy coconut stew…
All with so much LOVE
💗
💗
💗
3)Martin's daddy then whipped up a beautiful salad with lots of fresh greens leaves and vegetables doused with the famous Austrian pumpkin seeds oil and Olive oil…
Refreshingly fragrant, earthly…slightly sour yet surprisingly scrumptious!
Mahlzeit!!!
Verdict??
I thought since Martin is a world traveller like me,I add in extra chillies..hoping he can withstand the "heat".
He did well
His dad had second helpings even though I noticed that his nose was "crying"…
It must be damn good
😂
😭
Awesome dad just
👍
like his warrior son.
We all make an awesome team in the kitchen
👏
👏
👏

..
💗
💗
💗





Send my love, hugs and kisses to your kids in Cameroon, Africa…
I learnt that the best form of love is unconditional love…and you my friend showed me this gift in more ways than one…
Feeling recharged and loved.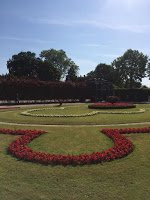 Thank you for taking me sightseeing around Vienna and driving me to the airport…
(Visited 20 times, 1 visits today)