Country:
Singapore
Advertorial.
I started my self-development journey in 2009. It may have started decades ago when I was young and I continued my journey again when I was searching for my true self and purpose.
But nevertheless, officially, I started reading self-help books in 2009. I was restless and need answers to what seem to be a "challenging phase" of my life. And I've always been a bookworm-hungry for knowledge.
Since then, I've learnt hundreds of ways and methods to release emotions, pain and whatever dis-eases thru simple techniques like EFT, Sedona Method, Emotion code (Dr Bradley Nelson), Hoʻoponopono (Dr Joe Vitale), Byron Katie Work, Affirmations by Louise Hay, Larry Crane, Drunvalo, shamanic, Executive Coach International and many more.
I went through many seminars and programs to delve deeper within to learn more about myself and the abundantful miracles we humans have that we are not aware of.
I also volunteered in many programs to be their logistics team and have the pleasure of two years learning behind the scenes of some of the amazing programs created by world renowned trainers and coaches.
So recently, I was blessed to be amongst great leaders , coaches and CEOs and that was when I met Tang in one of the mini-sessions.
Anyway to cut the story short, Tang is a founder of Radiant Living Singapore and probably the only certified Practioner of the Lifeline technique in Singapore.
He is a coach, trainer, speaker who specialises in Spiritual Healing and methodology.
Formerly educated in electronic engineering from a Singapore University and working in the corporate world for more than 10 years , Tang CT have taken an uncommon path to pursue his real passion and purpose in supporting others in their inner discovery and transformation.
Tang CT has been trained and certified in numerous transformational disciplines (including NLP , Lifeline Technique , somatic work and others) and has since worked with numerous clients of different walks of life for the last 7 years.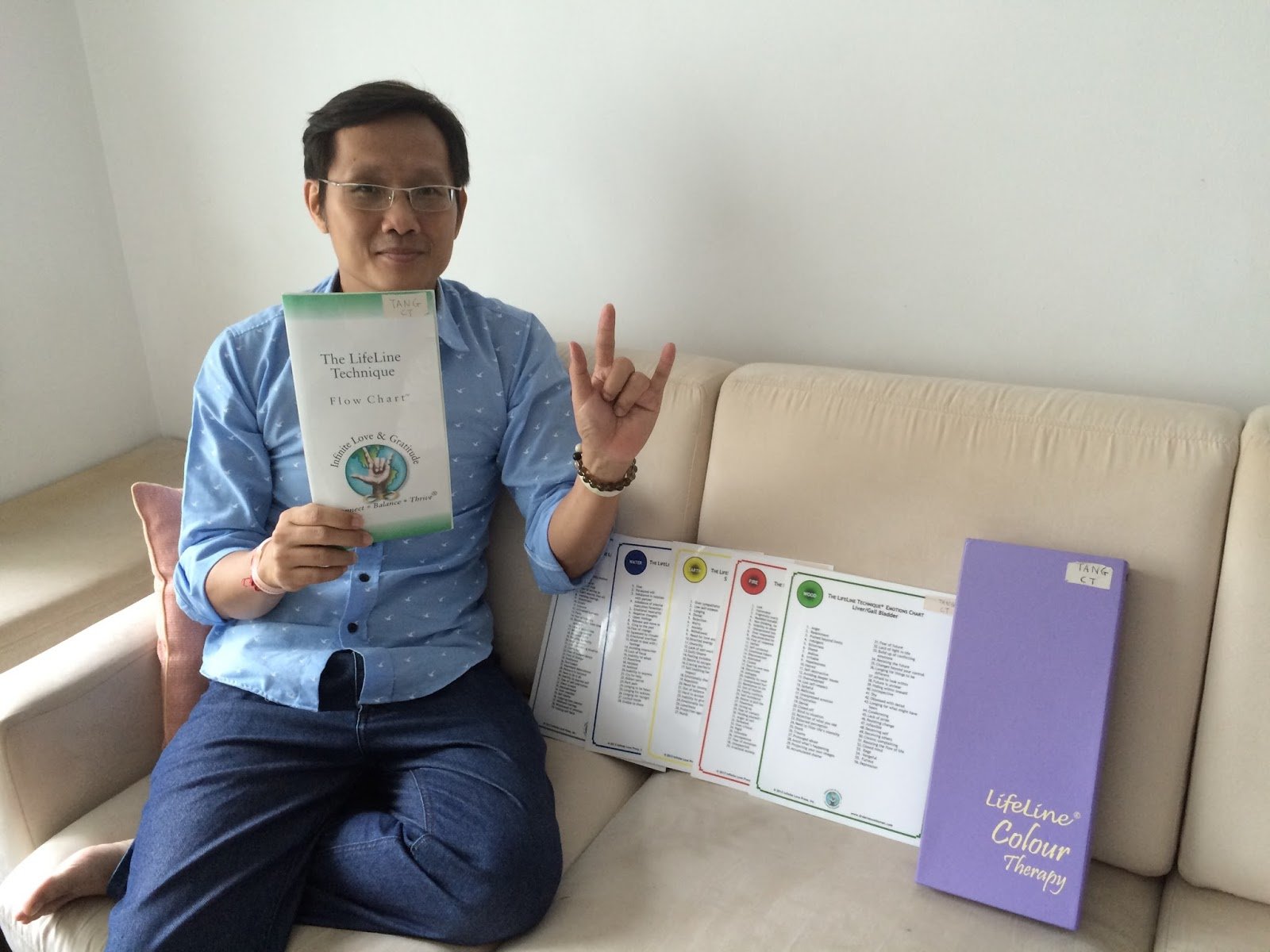 Actually, I met him two years ago with a small circle of leaders with Dame DC Cordova (Money & You CEO) but we did not talk much.
This time we met again and we got a chance to learn more about each other's businesses.
1) Lifeline Technique Quickie 15-Minute Session
I was rushing for a business trip to KL that unexpected "bless-full" day but I have an hour to spare and it's just so happen that I met Tang.
I kept having a certain heaviness in my heart and it kinda restrict my flow of air coming in.
My recent fitness seemed to be better than it used to be with the new gym regime and trainer (Thanks Hilda!) and all that. I felt leaner, more energised and lighter physically (I lost a few kilos and maintained that 60kg).
I felt wonderful but I wondered why my heart felt a little heavy.
Weekly, I often do my favourite emotion code technique by Dr Bradley Nelson and some EFT as well. For removing whatever emotions, blocks and limitations and release them as I acknowledged their existence in me with love.
But this nagging "heaviness" in my heart kept popping in and out as an uninvited guest. I am determined to get to the bottom of it.It was not that bad. Not painful but it got me feeling a bit uneasy.
So when Tang was describing his work, my curiosity peaked and I asked him for a "quickie" session. To me if the technique is that powerful, one can feel the effect almost immediately or at least within 30mins.
He willingly obliged and we did an impromptu "quickie session" in a hotel garden space. (A "quickie session" is a mere 15 minute mini session with Tang. All we did were : Seat close facing each other with my right arm outstretched for the muscle reflex testing. That's it
)
It was simple really. He asked me some questions and asked me to follow some of his actions (Mudra and stuff) and then before I knew it, it's over.
I felt nothing at first but then I noticed that my heart no longer had this heaviness. Like a hiccup that disappeared, I felt a bit weird and kept searching for the old "heaviness".
It's not there and it did not returned. I kept a close "watch" over it through out my KL trip.
What truly blew my mind was that something magical happened after that.It seems that the heaviness in my heart has got something to do with a person I so much wanted to meet but I did not know who.
I just felt that I needed to meet him and we needed to forgive ourselves for whatever happened in the past between us.
So after the short session, I went to grabb a bite and leave forThe Airport to Kuala Lumpur. In the midst of that, someone fell in the middle of the road right in front of us and we were sidetracked from our journey to help this fallen stranger.
While busy with solving this stranger's plight, someone grabbed me from the back and hugged me tight. It was the perfect person I missed and wanted so badly to meet. Our hearts got connected and I felt LOVE…just LOVE
love love.
I was so lost for words
. I never knew we could meet cos we both were so busy with our own worlds. But it's fated that we met that day and hugged each other for the longest time.
No words need to be uttered. Forgiveness was a definite. Clearing started immediately and love rushed in abundance.
And then he disappeared. It was like a dream. In that "busy-ness", I felt grateful to find that moment of peace that I seek. It was a perfect gift before I left for KL.
I felt much much lighter (physically and emotionally) and so much free and happier.
I told myself that this technique is awesome and I shall learn more when I get back to Singapore.
2)The Lifeline Technique 1.5 hours full session
And so I did…weeks later….
Tang is a very down to earth and open man who you can confide and talk to about anything. Client confidentiality is definitely present.
When we began as usual, my ego walls started to erect, stand tall and proud. I already knew that "attitude" will surface eventually .
Tang knew that I was acting from my "false self" from the way I strongly held my arm up and sat so rigid for the muscle reflex testing. But it still got weakened at the hard truth of inner-self.
He asked what aspect of life ,I wanted to improve or focus on. I said a few. He then proceeded with another series of questions.
I did not have any specific pain or diseases or any major challenges but I am open to what my inner self wishes to explore, repair and solve.
I did felt moments of "cold feet and hands " and sometimes I felt like I'm heated up as if I was near a campfire. Part of me wanted to "escape" although I knew nothing what was going to happen.
I wanted to act "cool and tough" (I called it the tough single mom face) through out but then eventually tears trickled down my cheeks unexpectedly. I tried to restrain but more gushes of waterfalls flowed down.
I saw visions of my past, the child, the teenager and the young adult that I used to be. I saw the pain, the fears and the emotions running amok in my head and in my life.
I wanted to know more about my soul purpose and what's blocking me. Again Tang asked me some questions and soon, the answers surfaced themselves in visions and sometimes even in words or sounds.
I have no idea where this leads me but I reassured myself that it's for my highest good. The jittery feeling dissipated as Tang guided me to solve every challenges that I seek.
At the end of it all, I felt so much room in my body cos I had "freed" my past and emotions that no longer served me.
I felt so much happier that when I reached home, my kids were commenting how happy I was. I was even singing to myself as I was washing the dishes (I didn't noticed it, they did).
They too felt the big difference in their Mommy.
And my Visa approval for the next country I'm intending to travel had been having some issues and had been prolonged lately because of my internal "battle" and limitations or so I thought.
But after the session, the Visa was approved easily and effortlessly.
That night, I slept like a baby in a deep deep sleep in which I have not felt for so many decades. I used to be so restless in wanting to go home to my parents in Europe but now I no longer have that restlessness because I am "home".
That was one of the big subconscious belief in which Tang has helped me to overcome and replaced.
Many more miracles are popping up. I have huge energy and so much joy and love for myself, my kids, family, friends and even for strangers.
Don't believe a word I said please. Test it out for yourself. For me right now, I have learnt so much from Tang in that mere 1.5hours and I am thankful. He guided me back to my higher self.
And I am also clearer as to what I want and where I wanna go in life.
So if you are like me, constantly looking towards a better life and self, give yourself this gift of Lifeline Technique.
Whatever challenges you are facing which includes pain and stress, meet with Tang and let him guide you for your own good health, wealth and success.
I heard that he have clients both local and international and have listened to testimonials from his clients who varies from those with physical challenge (eg stroke, cancer etc) and those struggling with internal challenges (eg tress, depression etc).
You do not have to wait for your pain or challenges to be huge before you meet Tang, it's best if you are aware whatever little discomforts, pain or challenge you are having now and if you seek to solve them like mine. You will never know what you are gonna discover for yourself. The subconscious hold many mysteries for all of us.
Mine seemed like a small heaviness but beneath it, has a strong big reason which I myself have totally forgotten about. And through that, miracles have been happening for me because I have not resolve that issue earlier on.
Contact Info:
Tang CT
WhatsApp: 9633 7204
Email:radiantliving123@gmail.com
Thank you Tang and Radiant Living Singapore for your Universal Love and passion in wanting to help people of the world with your talent and greatness. Wish you the best in success, abundance and definitely lots of infinite LOVE and gratitude.
Be You.Be LOVE.
Love Self,
Lina.
P.s: It does not matter where you are in the world, Tang can act for you as proxy too. With current technology like SKYPE, google hangout etc…
When you are ready to face whatever is blocking your success, all doors of methods and ways will be open for you.
Everything is possible.
If you are truly clueless as to what I'm talking about but you are interested to learn more…watch the video. The masters will share with you snippets of their understandings.
(Visited 139 times, 1 visits today)