Country:
Singapore
Advertorial
No, there is nothing wrong with your screen. This time you are gonna see thru my eyes. Being cladded in love and all the romance, my vision (and peripherals) too has enveloped itself in warm cosyness of dim lighting and warm hugging romantic ambience.
Alright let's zoom in on today's food topic… Mediterranean Cuisine. From its name, Levant, it meant the sun rises in the East. Its name gives me a sense of imagination and pleasure, where silence is ultimately golden in such moment. In awe moment.
I met this wonderful lady, a strong willed and gorgeous personality, a remarkable founder of evespeakz.com . Her name is Sharifah Fazzeleen. She helps and empowers ladies and especially single moms. She has 15 years of event management experience and business expertise in her passionate niche.
Currently, she is a Muse Coach. Do check her fb page for more info.
She is currently engaged to her soulmate who matches her talent and beauty, Chef Hany Moustafa. He is from Egypt. A well built, very healthy and fit chef who has years of international culinary skills from various countries.
It took me a while to reciprocate their invites. And recently I did.
Disclaimer: Read the disclaimer below before you proceed. Chef Hany has vouch that he ensures everything he cooks are Halal because that is his responsibility as a Muslim. But because the restaurant is also co-owned by his non Muslim friends, they do sell liquor. FYI.

Again, its up to you if you want to eat or not. Remember, Halal is up to individual responsibility. Be responsible for what goes in your mouth. Do not judge other people but yourself. If in doubt, do not eat at all.
This was totally a last minute thingy. I was not really prepared because I was supposed to fly somewhere the next day. But I know I need a feast before I leave.
I was craving for lamb shank briyani. And somehow, my footsteps led me to them.
Ok, I chose this Kebab platter first because I love the chicken. The meat is so well marinated. Taken from my favorite chicken parts- the thighs. Its well grilled and its juicy. Ooh la la. Love it!
The rest of the grilled items are minced beef meat and fish. Fascinating, really.
The appetiser platter (mixed of hummus, tabboula, moutabal and green salad) was the first to arrived. I love the mild spicyness of the cold pomegranate and aubergine starter.
The rest of them especially Shirazi are refreshing and fresh. It kinda tickles the tastebuds in enjoyment. The whole plate is quite filling for one person. But for 3-4 people, its perfect.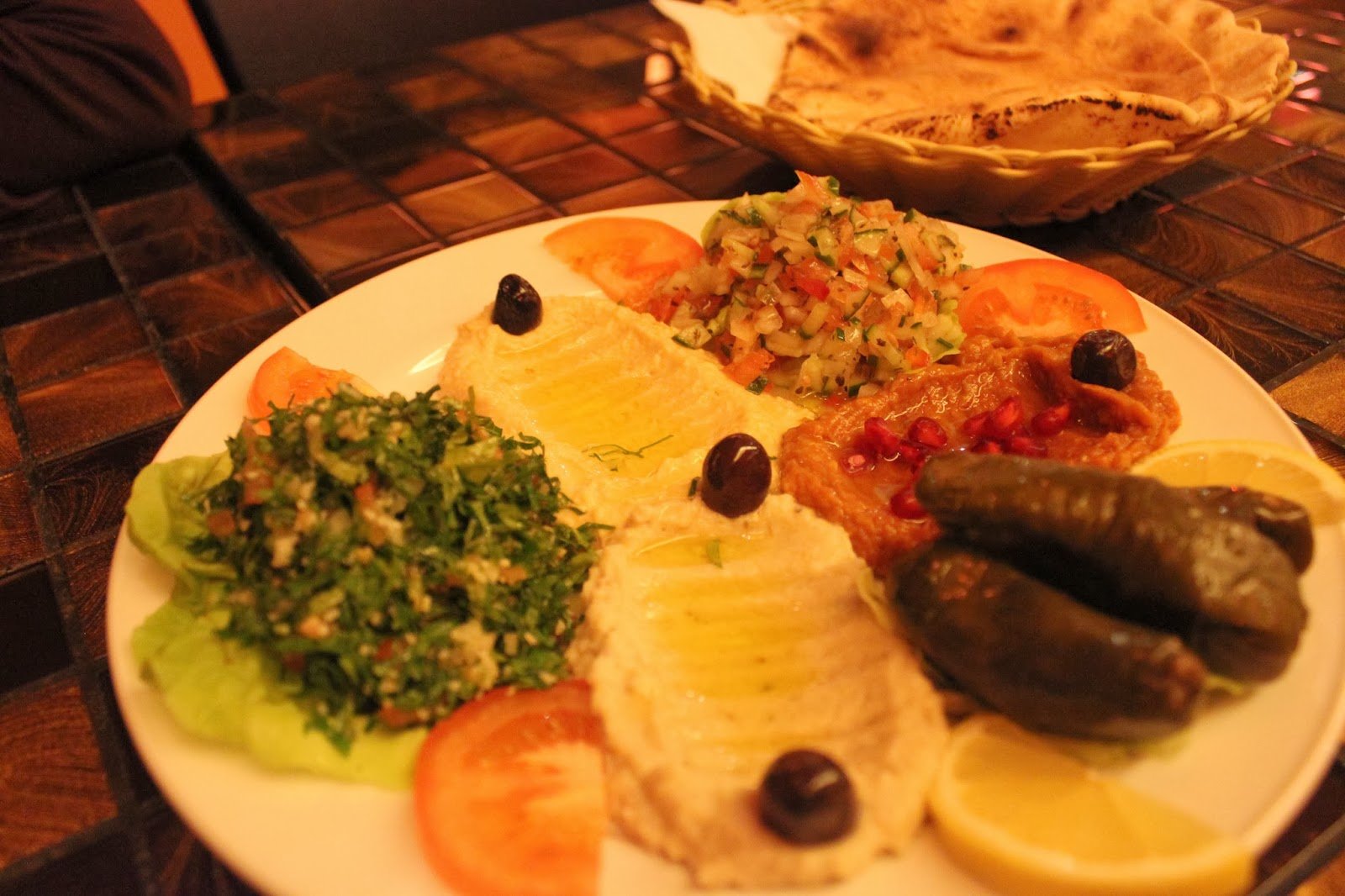 If you have never eaten a Turkish Dolma, rice wrapped in grape leaves (sometimes with minced meat) and parsley, you can engaged your curiosity buds with these. But its quite filling (so please save your tummy space!)
Lamb shank Briyani. What can I say. The meat is beautifully tender. The rice itself is so good to be eaten on its own. If you are like me, I will stop the waiter from shredding my meaty lamb shank into bits and pieces and spread them around the pot of Basmati spiced briyani rice but instead I will hold it like a champion in my palm and just rip it apart with my gnarly white ravaging teeth. Grrr!
Saffron Ice-cream is mild flavored and fragrant. A delight in every spoonful. Pomegranate seeds adds that burst of fruity flavour and crunch to it.
Overall verdict:
I like the romantic hues of the whole ambience and restaurant setting (including furnishings) therefore, restaurant and cleanliness is 4 out of 5.
As for the food, I will give it 3.59 out of 5 heartbeats. I like that the food are made from fresh ingredients and are simply marinated. This brings out the essence of the true nature of the meats. But Im a bold flavored person. I preferred mine to be strong in taste and spices.
Levant Middle Eastern restaurant
Singapore, Singapore 289198
+65 9640 4866
(Halal-Kitchen/Partially Muslim-owned/Liquor sold)
Tue – Thu : 11:30 am – 3:00 pm, 5:30 pm – 10:30 pm
Fri – Sat : 11:30 am – 3:00 pm, 5:30 pm – 11:00 pm
Sun : 11:30 am – 3:00 pm, 5:30 pm – 10:30 pm
Complimentary Valet Parking Available
Heart Felt Gratitude:
To Levant founders especially to Chef Hany for whipping such sumptuous meals for us, the staff and also Sharifah, his beautiful fiance and Ischa our foodie girlfriend for accompanying me in devouring this beautiful feast. Thank you so much, beautiful peeps!
Disclaimer: WHQ doesn't care how other foodies do it. We are not critics. We are simply food lovers who love to eat with all our senses and especially our hearts. We are not representing anyone. Halal is an act of individual's responsibility. What we feast on may or may not fulfil your standard of 100% halal. We are not responsible for your own tummy and bodily experience. Our intention is to make Halal a no.1 brand in the world for the world …in our own unique way.

.
(Visited 25 times, 1 visits today)