Country:
Malaysia

Grain-fed Wagyu Steak.
I dunno about you. But where I came from, steak was often associated with men. Is it because it seems more macho to devour such a big chunk of meat? More manly, more animal-like? Or is it because women preferred the salads cos they are more conscious about health and their waist line. (I cannot answer for that… I have no idea. For me, my waist line depends on my mind-set)

Well, I can never say NO to Halal meat. I'm the steak kind-of-girl (never a salad girl). Always roughing it out with the boys, eating like the boys.My mom had given up the idea of me being the "girly girl" (definition:who plays with Barbie dolls and "masak-masak") way back in my early childhood when I returned home for dinner with a messy face, bloody knees and group of dirty, hungry boys (my "playing-kakis").

I left the etiquette skills of a girl somewhere back in my childhood. It's so much fun to eat almost "monster-like-messiness". I mean what's the fun of enjoying pure meat when one has to be so ladylike, demure and gentle in eating them, right? U gotta use your hands, babe! *sorry gentle ladies.

And so if you ever get the chance to dine with me, YOU have been warned!

I've heard of Me'nate Restaurant from a new-found friend. (Thanks Kahar!) . He talked about it almost everyday, back then… that I salivated bucketsful every time, the conversation begins.

And so this time as I hitched a ride with them back to KL (thanks Bros!), I made a vow to never leave KL without eating Menate's steak. Even if I have to slaughter the cow myself, I shall do it! *beware cows! (But wait…do I have to chase them, or will they ended up chasing me? Yikes!)

It was easy to find the restaurant with the help of the WAZE gps app.(Thanks Bryan!)

First impression: This restaurant seemed very ordinary. Situated amongst the bustling food centre nearby, I can sniffed the satays being char-grilled and the naan bread being baked in a nearby tandoor.(Somehow my senses heighten exceptionally especially during the Ramadan season. *lol) But as I entered the "breezy" restaurant, the charms of the restaurant opened itself to me. I felt so welcomed like being in my own home. (oh well, every meat restaurant felt like home to me…the innate animal instincts were easily aroused at the very first step. *lol)

I was too early for the Ramadan iftar (break fast).I need to "snoop" around and seek some answers before the hungry patrons come.

I was warmly greeted by Muhammad Ezman, the manager . He is also the son of the owner of the restaurant. A very young, friendly chap. He introduced himself and have me seated cosily in the restaurant. We immediately zoomed on to the very important matter: Meat business.

He explained about Me'nate's steakhouse history and background. Me'nate (pronounced as "Mur-na-tay" )is a kelantanese slang word which meant "animal".

Me'nate has been in the meat business for 4 years (nearing to 5 years) .The founder of Me'nate is his father. His father had worked in the UK for 10 years. He was one of the prestigious Master Butcher of Asia to serve Queen Elizabeth in the UK. He was professionally trained there and is qualified to train other butchers locally and internationally, as well. And he told us further that his father can skilfully butcher, bone and cut a whole cow for only 10 minutes? (is that wow or WOW?!? *I'm smitten cos I only know how to eat one cow)





Later, his father, Mr Mustafa came in and he totally bowled me over with his great knowledge of meat.


A humble down to earth guy whose simple philosophy of Halal is to DIY. He stressed upon cleanliness and hygiene as top priority in any HALAL food business. He further mentioned that the moment the customer steps in, it is their MAIN duty to make them feel welcomed and happy.

The livestocks come from Australia. They then were brought into their Malaysian farm. Both father and son will slaughter the meat themselves to ensure its Halal authenticity. And aging of the meat is also done in-house.



The steaks in the menu are all subject to availability. Instead of browsing thru their menu, you have to go thru their chilled meats (their promise:never FROZEN).

There are many options for steaks; grain and grass fed Wagyu steaks are also available.




Amongst the many meaty gossips: I heard that the most expensive Wagyu steak costs about $600 RM per customer serving. But again that is subject to availability. Often, sold out.

For non-passionate steak eaters, there are also other alternative options such as seafood, salmon, lamb, frankfurters, ribs, pasta etc…






I was so engrossed, listening in..to such fiery passion
Mr Mustafa stressed that the top notch quality and freshness are his main priority in serving good food to his customers. Most of his customers are long-time loyal customers who repetitively keep on coming back for more.

What amazed me, was that…he did almost everything..by himself. Somewhat like MacGyver. From repairing the refrigeration systems to carpentry of his own restaurant furnishings. Such multi-talented man, who are skilful with his hands… a dying breed in this modern technology. *sorry guys, facts of my life…


Ok, so WHQ chose the meats recommended by them. Do take note that the prices are based according to the weight of each meat.

Anyway, this was the first time, I heard about Matsusaka meat. OMG!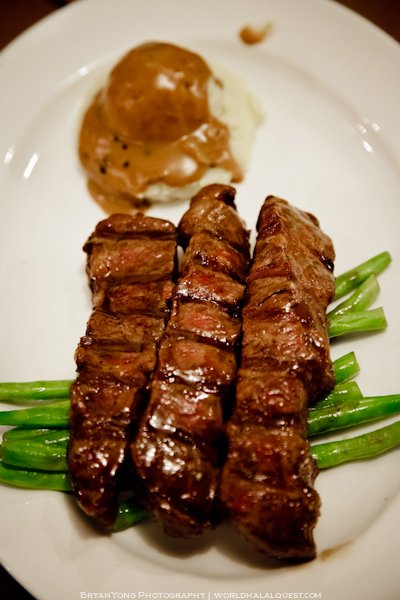 The bestest HALAL wagyu ever… hands down….and feet up!

(The doneness of the meat, we leave it to their expertise. But if you prefer it to be pink and not so bloody, medium is the best choice. Never have it well-done. I have yet to try them BLUE.)

When the Matsusaka landed on my tongue…I chewed it for a slight moment before it slithered gently down, melted in its own fat and its juiciness oozed down into my throat. (Me'nate cooked it with a very simple seasoning which was perfect for me!)

Ooh…. My eyes just rolled over and over …it was that good. Pure awesomeness.
Let me repeat this again: It was melt-in-the-mouth, full-flavoured, succulent-juicy. The Oohs…and aahhs… after that transcended me into a dimension of gastronomic world that I never knew existed. I felt so satiated that I go into the ZEN-like peacefulness. Hmm…

I totally forgot the beautiful crowd that I was with. I just felt that I'm one with the Matsusaka. Once u tasted it, nothing else matters. *Metallica music playing in the mind

OBTW, the other Wagyu steak, ribs and lamb were good too…
But Matsusaka… was beyond words.

Ratings? Beyond- 5 love for the Matsusaka steak.
Ambience is about 2.73. Very clean, breezy- non air-conditioned. It's not that posh nosh type of setting. So yeah, kids (and adults like me) , u can pick your food with your fingers (wash them first, please). Free flow of drinks (hot and cold) with any food ordered.

My own tummy slogan:-
Never ever leave Me'nate without tasting their Matsusaka steak. Its a "tummy" sin.
And please…if you need professional meat consultation , get Mr Mustafa as your Consultant. His knowledge of meat is beyond anyone whom, I knew. But then again, do you know anyone else who has served the Queen? *wink.
Heartfelt gratitude :
To the Wonderful Me'nate's founder and son team: Mr Mustafa and Mr Ezman and their gorgeous staff .WHQ had a whopping good time with the fantabulous meat indulgences (to feed our carnivorous side.Grrr…). And it was definitely an educational experience for both the minds and our palates as well.

And especially to Kahar and his lovely family for introducing us to this awesome restaurant. And not forgetting WHQ's awesome friend Cristl for her endless support in our quest! God bless…

Location:
No.16 Jln Kerja Air Lama Satu,
Taman Shuet Liang, 68 Ampang Jaya,
Selangor Darul Ekhsan
Malaysia
tel: +603 4251 3460
www.facebook.com/menateampang
www.menateampang.webs.com
Muslim-owned.




p.s: Do you know? Soothing music is played to calm the Matsusaka cows and to encourage better beef quality? Fascinating. If cows need them, don't you think that humans need more of it…we should start elevating our quality of lives, isn't it? Anyway, if you need to know your meat: http://meatandwildgame.about.com/od/Beef_Veal/tp/Steaks-A-F.htm

Disclaimer: WHQ doesn't care how other foodies do it. We are not critics. We are simply food lovers who love to eat with all our senses and especially our hearts. We are not representing anyone. Halal is an act of individual's responsibility. What we feast on may or may not fulfil your standard of 100% halal. We are not responsible for your own tummy and bodily experience. Our intention is to make Halal a no.1 brand in the world for the world …in our own unique way.

.
(Visited 183 times, 1 visits today)