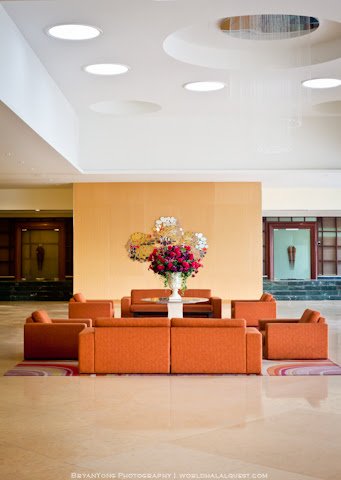 15 minutes'- drive up north from Singapore towards Johor, stands a vibrant hotel gleaming with warmth and hospitality. Overlooking the scenic view of the Straits of Johor, this hotel promises a fun-filled stay with family and friends with packages that include the Legoland Malaysia and San Rio Hello Kitty Town.
During this blessed month of Ramadan, M Suites Hotel is opening its doors to the charming pasts of Old Johorean cuisines. The forgotten past of Johor's exquisite tastes and delights such as Batu Pahat's Briyani Gam, Laksa Johor and the numerous variations of famed Asam Pedas from Johor counterparts can all be tasted under one roof. Every one of these recipes were originally created by people who took pride in the integrity of the ingredients. No short cuts are taken.
From the freshest ingredients of the local produce to decades of culinary training to prepare all the Johorean cuisines with pride.
So for those who are afraid of MSG, worry not.
M Suites Hotel offers a Ramadan promotion which begins on the 10th of July until 7th August 2013. They have prepared a wide array of Johorean dishes to bestow fellow Muslims and other non-Muslims as well. There will be more than 100 dishes served throughout Ramadan and the Chef will provide rotating menus, daily. So patrons can expect varieties.
Patrons of Myra Bistro will be pampered with many variations of Briyani, their signature Asam Pedas variations, local delicacies from Sup Tulang Rawan, Rojak Asma, Ikan Bakar counter (grilled fish) counter, Indonesian roasted whole lamb, Chinese Roast Duck with ginger rice, Chinese Chili Crabs, Ulam Melayu (Malay traditional raw herbs and vegetables), Lok-lok, Lamb Keema, Botok-Botok, Kuzi Chicken, Penderam Udang, Mee Rebus Johor, Portuguese Roast Chicken. Desserts included in the Ramadan feast: Puteri Sebilik, Tepung Pelita, Kuih Jongkong, Cendol, Roti Jala Berlauk, Nagasari and many more mouth-watering desserts.
The colourful surroundings and the furnishing in the café injected the word fun to its dining mood. Coupled with the relaxing ambience, it put us at ease as WHQ team ate and chatted away.
The food that was served to us was Rojak Garam Lada, Laksa Johor, Briyani Kambing Naditya, Ikan Merah Asam Pedas Claypot and 3 types of dessert: Bubur Som-som, Nagasari and Kuih Jongkong.
The Rojak Garam Lada was sweet and fresh. The scent of the fresh red chillies in the vibrant dip could be whiffed upon its arrival. Eaten with the fresh salad and fried fritters of tofu and crab claws. Sweet, slightly tangy dip goes well with the savoury fritters and crunchy salad. The combination was highly appetizing.
Laksa Johor came in dollops of thick luxurious fish meat blended-in fresh spices and ran through strands of thick well-blanched rice noodles. It can be eaten so well on its own.
The fluffy freshly spiced briyani was so fragrant that we could live by the smell for years. The secret was that they use only the best and the freshest spices and herbs which were grinded/ hand-pounded onsite. This recipe was a closely guarded secret for generations.
The mutton meat was hidden lovingly underneath the rice. The meat soaked up the flavours of the rich spices. There was a hint of sweetness in the meat that can only be from fresh mutton meat.
Served with Acar, Paceri Nenas and also Dalca, they made a perfect "Romeo and Juliet". While the basmati rice was light, fluffy and fragrant like how every excellent briyani should be, it's also healthier compared to normal white rice.
Asam Pedas Ikan Merah Claypot
Asam Pedas is one of Singapore Malays' favourite dishes. We just love the sweet and sourish fusion of this intricate beauty. This semi-thick Ikan Merah (Red Snapper) Asam Pedas Claypot is one of their signature dish. The sweet sourish gravy was perfect with hot and piping rice.
The desserts meanwhile…
The fresh cream of coconut can do wonders to tiny little desserts. With added palm sugar (gula Melaka), and the steamed rice flour, the desserts can make your tongue dances in satisfaction.
Overall, this is just the beginning of nostalgic taste from the Johor state. We have not even touched upon the surface of their Ramadan feast and we are craving for more.
Do come and visit the Myra Bistro for the Ramadan specials. Come on over and spend some nights with your loved ones in M Suites Hotel. Sahur will be served daily, in-room (unless otherwise stated).
For Eid Celebrations, M Suites also offers outside catering; personalised according to your needs. Do contact them at
+607 22 11 000
for more information.
Nostalgic Ramadan Promotion:
Dates: 10th July 2013-7th August 2013
Time: 7pm-10pm

Prices:
RM$72 ++ adult
RM$30 ++ child (5-12years old)
M Suites Hotel Johor Bahru
16 JalanSkudai, Straits View
80200 Johor Bahru
Johor, Malaysia.
Tel : +607 22 11 000 Fax : +607 22 60 380
E-mail : info@m-suites.com Web :http://www.m-suites.com
Heartfelt gratitude to the wonderful staff of Myra Bistro and M Suites Hotel. Especially for their dedication and passion in their everyday work, the unsung heroes behind the gorgeous food are:
Chef Azhar (with more than 30 years of local and international cooking experiences), Chef Hadi, Ms Siti Zubaidah, Mr Wan Azlan and especially the PR officer; Ms Nur Akmal. Thank you for an unforgettable dining experience!
(Visited 27 times, 1 visits today)