Country:
Singapore
I was told that Streats Cafe at Bt Panjang Branch is Halal in Ramadan this year. But wasnt able to follow up due to many food invites.But nevertheless, the second time(Thanks Nur Hayati@FBfor the info!) I was informed about Streats Cafe, I decided to follow its trail and uncover their HongKong cuisines. Who knows, I might find some treasures!
*wink
So here I am during lunch hour on a weekday. Wanted to blog on the spot but was disappointed that there is no FREE wi-fi here.
I was even further surprised that I have to fill up my own order. I thought with the 10% service charge boldly shown on the GIGANTIC menu outside, I have the luxury of having the staff taking my orders. But no problem, the staff were quite helpful. Although occasional questions like "are these/those good?" are being answered with -" I dunno cos I have never tasted it" and when asked for recommendations, the Macau fried rice was highly recommended.

One look at the menu, it brings me back to one Hong Kong cafe of similar taste at Changi Airport. Those were very memorable because the food is good. Too bad, it no longer have the Halal cert.
Ok, as I scrutinised the menu, similar dim sums, noodles, nissin and the thick toast with luxurious peanut butter and condensed milk can also be found here!
Still unsure what to order, I judge thru the pictures shown. I ordered:
Macau Fried Rice,Fried noodles with XO sauce (I was told XO sauce is not the brandy but the lethal spicyness),dimsum-Siew Mai and woflberries lychee drink to cool my unnerving body heat (I think the weather is kinda hot lately)
The food came fast. The noodles was a shock cos it did not look anything like the picture shown. It was supposed to be white in colour with colourful reddish chillies in the background but mine is kinda black (is it chao-ta? burnt? or probably soya sauce)
The waiter did ask whether I want an additional fried egg with it (80 cents extra),I refused because I wanna taste the noodles on its own. And sure enough, after one,two and three bites even that additional egg won't help much!
The noodles are ok, with miserly few prawns and probably some crab meat stingy-ly tossed in the noodles. It wasnt as hot, it was mild hot. But I felt that it needs something to enable me to finish it up.
The second meal, the Macau fried rice was another disappointing entry. I have always held Chinese fried rice in high regards but this is really adding some dashes to my already sombre mood.
The fried rice, was clumpy, which tasted like instant sweetness of tomato sauce..and chicken chop was alright.
Third was the Siew Mai…it was tasteless on its own. So the chilli dip was a necessity.
I was restless, cos I hate leaving food unfinished..and so I ordered one of their so-called specialties .Hot plate stir fry black pepper beef.
Well, I reckon so far the Hong Kong restaurants have never failed their beef menu so I believe I am in the safe side. Furthermore I need some meat to finish up this noodles!
It came hot and piping. The black pepper beef was thinly sliced and tender. But there is after taste-either numb or bitterish (people said, that is often indication of too much MSG but I dare not insinuate that)
I finish up my noodles, but the beef slices was giving me some after taste that I have no choice but to leave a few pieces untouched.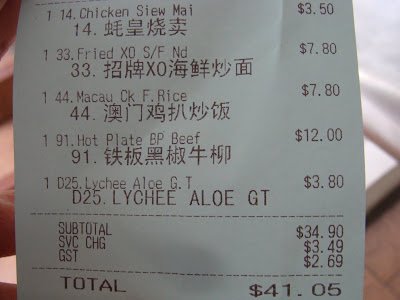 Will I come back again? Well, the price might not encourage repeat visits but who knows, I might if the management train their staff and indulged them in food tasting cos they are crucial,they are the food ambassadors and of course, when the food has improved. I might return..or probably I will try out in other branches. Do not take my word for it. Either my tongue is having PMS, or its the food…whatever it is, do give these Halal establishments a try !
Location:
Streats Cafe@E-Hub
(Managed by Katrina Holdings Pte. Ltd)
1 Pasir Ris Close, #02-104/105
e!Hub @ Downtown East
phone: 6584 4001
Halal-certified till April 2011
Disclaimer: Food featured are subject to my personal taste. I hold no responsibility for your body's gastronomical adventure.All food shown are either from Halal-certified or Muslim owned establishments(with no liquour/alcoholic beverages).I will try my utmost best to update and maintain the relevant information shown,insya-Allah…but your body,your responsibility.Do ensure that the Halal-certificates are up-to-date,renewed (not expired) and displayed promptly before ordering/consuming. If in doubt,always ask the staff with a smile.Remember: Use ur senses especially your heart.But mainly, ask your iman (faith). Don't assume: A headdress/scarf lady is not equal to HALAL. "No pork no lard" signage is not equal to HALAL. A crescent moon and star symbol is not equal to HALAL. Not all Mediterranean (e.g Turkish kebab), Malaysian, Indonesian cuisines (especially Nasi Padang food) is HALAL. Whatever franchise that is HALAL in Malaysia,Indonesia or in any muslim country does not mean it is HALAL in Singapore or anywhere else. Your body,your responsibility, check its HALAL authenticity. More on disclaimer?Thank you for your kind attention.
(Visited 83 times, 1 visits today)