Country: Singapore
Food: Sponsored
While sorting my jigsaw thoughts and words (actually nursing my brainfreeze moments), I shall allow you to concoct your own story in your own individual minds with these feast of pictures….
Will update this post with words,soon…
p.s: Try guessing…"What is Putri's role in this event?"…Is she the audience,the participating member of the cooking class, the busy-body blogger or just the faithful eater? *chuckles (If u are wondering, this is not the FINALE contest question…That will be posted in a separate post.Patience, my dears..)

Updated: 6.9.10


Was invited back to Furama to witness one of the mouth watering cooking show by Celebrity Chef Kaler. I am honoured to be a part of this delicious event.I was to be the audience,the participating member of the cooking class, the busy-body blogger and the faithful eater-4 in 1 mix *chuckles (thks Bunny! for that prompt response.. I would love to be part of the "sembelih crew" if there was any..hehe!)
Reaching the venue, my eyes are fixated on the blueish pool , it seems there is a magnetic pull beckoning me to jump in….(thus the nick-Water Princess) But before I create a chaotic scenery with me jumping in fully clothed and all, I remembered the gorgeous food awaits me…Aah…that broke the spell.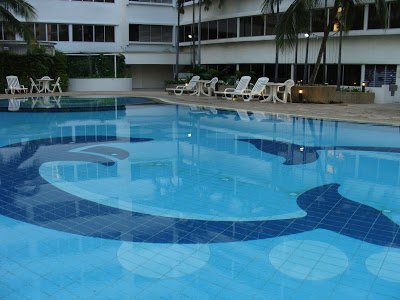 This is Margaret,the gorgeous lady who represented US poultry …
Today, the whole cooking show will be on the internet tv. I can see the hardworking production cast ,the hotel crew and US poultry working cohesively hand in hand to deliver their best.
Fascinating really..as I was eyeing the cameraman, watching his every moves. I love to be behind the camera…I am not a-know-it-all but I love to finger thru their bulky equipments. Ok, got to focus on the cooking show, I was a bit jittery when I heard that we have to do some hands-ons. Erm, I only bring my tummy….the mind is resting at home…*grins
Chef Kaler and Chef Derrick were explaining the ingredients to their recipes. First on menu was the Rendang Ayam Belanda U.S (Braised U.S Turkey in Coconut Milk)…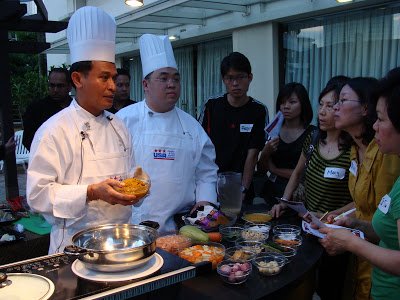 Turkey is a tough bird as compared to chicken. Thus braising this will take about 1-2 hours. Luckily, the Chefs had already prepared them in today's Iftar buffet at Kintamani (YIPEE!). I have tasted Chicken, beef,mutton, porcupine and even clams in rendang but never a Turkey. So today shall be an interesting tasting day!
Some brief info about U.S Turkey:
U.S Turkey has lower calories and cholesterol as compared to beef and pork. There are 3 ways to properly thaw a U.S Turkey-in the refrigerator, cold water and microwave. The proper thawing time is about 24hours for every 2-3 kg. To store leftover U.S Turkey, all bones must be removed from from the meat within 2 hours of cooking.
Within 30minutes, ta-da! The Rendang turkey is ready…Mmmm…smells GOOD!
Do u want the recipe? I bet u do!
Ingredients:
600g U.S turkey (cubed)
2 Stalks of Lemongrass
2 pc lime leaves
2 pc Salam leaves
5 pc lengkuas
1 litre of water
1 litre of coconut milk
4 tbsp of cooking oil
Rendang paste: 200g shallots(peeled)
50g garlic (peeled)
30g Cili Padi
200g red chillies
100g Candle nuts
150g Chilli paste
30g Turmeric
4tbsp palm sugar
Garnish:
Fried Shallots
Cooking Method:
1.Blend all ingredients for the rendang paste in a food processor (Coarse texture)
2.Heat pan,add cooking oil and fry the rendang paste until golden brown. Stir frequently to avoid burning the paste.
3.Add U.S Turkey cubes,lemongrass, salam leaves , lengkuas and water.
4.Bring to boil ,reduce heat and simmer for about 25mins until 3 quarter cooked.
5.Pour the coconut milk and bring to boil again. Simmer until U.S turkey is tender and sauce is thickened.Season to taste.
6.Serve the dish on plate and garnish with fried shallots.
The next recipe is Chef Derrick's (beside Chef Kaler) favourite…Balinese Style U.S chicken soup.
Brief info on U.S chicken:
U.S chicken has NO carbohydrates and is also lower in fat than in beef and pork. It has high protein content thus is is considered as one of the healthiest foods.To maintain high quality of U.S chicken, i must be refrigerated immediately upon purchase. Do not keep U.S chicken in the chiller for more than 2 days. Use separate cutting boards for vegetables and poultry or washed properly before use.
Ingredients:
450g U.S chicken(minced)
200g Chayote (labu Siam) cubes
175g carrot (cubed)
1pc Salam leaf
2pc lime leaves
2 stalks lemon grass
Chicken stock:
500g U.S chicken bones
2litre of water
Mirepoix-mixture of diced vegetables (Carrot,onion,celery and leek)
Soup paste:
200g shallots(peeled)
50g garlic (peeled)
30g candlenuts
30g lengkuas
20g ginger
35g turmeric
sugar
seasoning (salt/pepper powder)
cooking oil
Garnish:
Fried shallots
celery leaves
Cooking Method:
1.Prepare the chicken stock with the U.S Chicken bones,water and onions.Add into a stock pot,bring to boil and simmer for 1 hour.
2.Blend all the ingredients in a blender for the soup paste until smooth.
3. Heat up Wok and saute soup paste till colour changes.
4.Mix half portion of soup paste with U.S chicken minced meat.
5.Roll spiced U.S chicken minced meat into balls. Prepare the soup with the remaining soup paste,morepoix,chayote and U.S chicken meatballs and boil until cooked.
6.Garnish the soup with fried shallots and celery leaves.
I watched how Chef Kaler make the chicken meatballs. It seems so simple! No eggs or flour needed. And one interesting thing is… the chayote which is green in colour. I often see it in the wet market but unsure how to cook it , now I know…Im gonna try it! woo-hoo!
The last recipe is Minced U.S chicken in Banana Leaf ..(which I must pay extra attention cos of the hands on demonstration from hungry participants like me *chuckles)
Ingredients:
600g US chicken minced
1tbsp fried shallots
1tbsp fried garlic
1/3 cup coconut milk
fine salt
15pc of banana leaves (cut)
Paste:
100g shallots (peeled)
25g garlic (peeled)
75g red chilies
30g lengkuas
10g kencur root
25g turmeric
20g candle nuts
5 g belacan
3g nutmeg powder
3tbsp cooking oil
Cooking Method:
1.Place all ingredients for the paste(Except oil) into a mortar or food processor.
2. Pound ingredients in the mortar or blend in a food processor until it becomes a paste.
3.Heat wok or heavy pan and add cooking oil. Then add paste and cook over high heat.
4.Stir frequently for 5 mins until the paste turns golden.Set aside to cool.
5.Combine all the other ingredients and mix well for a few minutes.
6.With a tablespoon,scoop the paste into the centre of banana leaf and wrap into a parcel.
7.Steam parcels for about 15-20mins until cooked.
8. Serve on a plate and garnish with vegetables.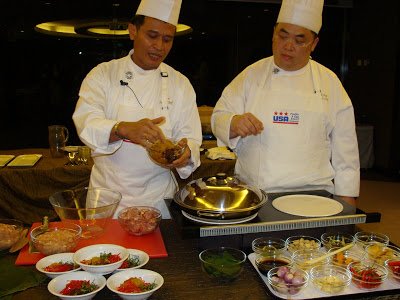 Ok, as I listened intently, to the instructions given. I was relieved to know that the hands on wasnt that complicated. No cooking is needed, just wrapping the banana leaves and mixing the chicken and wrap them into tiny parcels. Even how simple it seems, I still fumbled with my parcel awkwardly that Chef Kaler has to open it up and restart afresh *chuckles.
Luckily there isnt any cooking or fire involved cos Im a bit clumsy when it comes to experiments in labs or cooking classes..so watch out!If u see me around in any cooking classes, run away… hehee!
The experts "wrappers" in my team…
Eating time..WOOHOO!!
The Balinese soup is heavenly!! I thought its gonna be heaty but it soothes me and its' light yet rich with spices. Love it!
Below are just the introduction of the KINTAMANI iftar feast. WOOHOO!! I get to taste their Ramadan feast again!!…satay is NICE!Cumi-cumi (crispy baby squids) is lovely!

Other than that, the buffet feast: I love the mutton meat with ribs, so tender…..and not forgetting the brownish kueh lapis , I LOVE IT! (Truthfully speaking, I do not like the brown kueh lapis sold outside)
The food that were cooked in this US poultry event was exceptionally rich ! I like! The banana leaf chicken is very filling. One is enough for me. It's like the botok-botok fish or something.
The
U.S turkey rendang is good. I like! Meat is not as tender as chicken but it somehow absorps the richness of the fresh spices.
What I love most is the Balinese soup…and the cornish game hen (below)! Love it! Especially when u dip it into the balinese chilli . Shiok!
So small …this delicate cornish game hen is my first try…

Overall- I love this experience! I made new friends and learnt lots especially from the wonderful Chefs. The hotel has done lots to accommodate the participants involved e.g prayer room and prayer clothes, precise break fast timing with small refreshments and many more….
Note: The U.S poultry used here are HALAL. Margaret said that there are prominent HALAL logos on the products to differentiate halal products from non. U.S poultry can be bought at supermarkets.
Gratitude to: U.S poultry, Furama hotel, Kintamani and foodcult.tv for this big initiative. Love it!
If you want to know more about U.S poultry and methods/recipes, do check out the website (below) for the comprehensive demonstrations from various Celebrity Chefs in Singapore.
Bon appetit!
Location:
Kintamani Indonesian
Halal-certified
Furama RiverFront, Level 3.
405 Havelock Road
Singapore 169633
http://www.furama.com/
FYI-The Ramadan buffet dinner is priced at $42.00++ (Adult) and $22.00++ (Children
aged 5 to 11 years). For reservations, please call 6739 6463 or email
fnb.riverfront@furama.com.
Dining hours:
Lunch (Mon – Sun) 12.00noon to 2.30pm
Dinner (Mon – Sun) 6.00pm to 10.30pm.
Note: This restaurant is popular for their wedding venue and catering. Do book early for your big day!
Previous post:
http://www.worldhalalquest.com/2010/08/ramadan-2010-balinese-feast-at.html
Disclaimer: Food featured are subject to my personal taste. I hold no responsibility for your body's gastronomical adventure.All food shown are either from Halal-certified or Muslim owned establishments(with no liquour/alcoholic beverages).I will try my utmost best to update and maintain the relevant information shown,insya-Allah…but your body,your responsibility.Do ensure that the Halal-certificates are up-to-date,renewed (not expired) and displayed promptly before ordering/consuming. If in doubt,always ask the staff with a smile.Remember: Use ur senses especially your heart.But mainly, ask your iman (faith). Don't assume: A headdress/scarf lady is not equal to HALAL. "No pork no lard" signage is not equal to HALAL. A crescent moon and star symbol is not equal to HALAL. Not all Mediterranean (e.g Turkish kebab), Malaysian, Indonesian cuisines (especially Nasi Padang food) is HALAL. Whatever franchise that is HALAL in Malaysia,Indonesia or in any muslim country does not mean it is HALAL in Singapore or anywhere else. Your body,your responsibility, check its HALAL authenticity. More on disclaimer?Thank you for your kind attention.
(Visited 21 times, 1 visits today)