Country: Malaysia
Before I go into full mode of "hybernation", my adventurous feet decided to roam again. This year, I have the luxury to entertain my tummy with local delights and have no chance of venturing abroad. Well,luckily, I still got time to waddle about my feet just across the border…. *grins
Ramadan is always incomplete if you did not step into Malaysia. Over there it's like the "Mother of Feasts and Bazaars". So if you are thinking of travelling to Malaysia, Ramadan is one of the best time to visit Malaysia. But if you have missed that, don't fret…Syawal (Raya/Aidilfiri) is also another festive moments to rejoice.Because it seems that there are many "open houses" events happening in Malaysia especially on weekends.

What is meant by "OPEN HOUSES" are: There will be FREE INVITES to anyone (locals/tourists who happens to be there)to visit their beautiful decorated homes with free flow of local delights and beverages. The warmth of Malaysian hospitality and friendliness will not only pave the way for ur hungry tummy but also create many friendships and relationships that can last for years/endless.
How to know if there are open houses? One sure way to identify them is thru the large tents hoarding on the streets and beautiful costume cladded host/ess in their cultural Baju Kurung. Just head over and say HI..and you will be invited for a feast!
In Singapore, we do have such "OPEN HOUSES" but only open to those we know (spread thru word of mouth). Often these events are host in the first few days or late end of Raya season. I missed my school days of Hari Raya troops. We dressed in colourful Malay costume and travel around Singapore to visit each other houses. There was a time, my tiny house was packed with unexpected friends (probably 40) that we have to bring out all the pots and pans! *laughs heartily
Anyway, alhamdulillah I have spend my Eid overseas before and I realised that only Singaporeans celebrate a month of Raya. Most of the festivities jingles died down within a week, some only 3 days. Most countries are much hyper active in Ramadan month.Thus nearing its end, I can almost feel its teary eyed departure..I wished it will never leave.
So as I was beautiful lazing the floor with my gluey restlessness, few friends whom I have the pleasure of hanging out with jump start my cables with an idea "Hey,let's just check out the Malaysia Bazaar, it's not too late!" And so here I am , one sunny Sunday, with no plan whatsoever. I just head out with a couple of friends with hearsay-rumoured "Ramadan Bazaar locations"…
This is dedicated to my Malaysian fans/readers (no, I have not forgotten about you) for all the endless supplications, support and motivations…and of course to the rest of the worldwide fans-insya-Allah one day, I will get to cover your country's beautiful rendition of Ramadan…As for the Singaporean fans…do drop by the bazaars for any last minute RAYA shopping spree or just basic tummy filling day…one of these days if you have the time….
First stop:
Ramadan Bazaars often started around 4pm and end at about 7pm (near iftar timing).Nearing Eid, the bazaars have many empty stalls cos many have gone back to their individual villages for a headstart in the Eid preparation. Another best moments of celebrating the local festive Raya is in Malaysia Villages. So TOURISTS, come on over to ther Malaysian HOMESTAY villages and enjoy the Raya season on DAY 1.(If u are wondering..No, Im not working with the Malaysia Tourism..although I believe I have the knack of doing it freewill… *chuckles)
Journey thru the Malaysian Custom (woodlands)was not as toughly-congested as expected. I believe many Singaporeans have taken a few days headstart with the school holidays starting last Friday.
Travel tip/tricks:
The Malaysia custom imposed the prepaid zap card (TOUCH N GO) for entering the country. From what we reckon, the cheapest way is thru Woodlands…as compared thru TUAS, one has to gauge a precise entry point cos there are many "TOLL booths". So if you are unsure where to go (like us with no plans ahead), enter by Woodlands unless, u are going to KL or other staes, then TUAS is a better option.
And don't forget to fill up the white embarkation/immigration card(locals and tourists alike)!!
First start- Kampung Melayu Majidee. One of our friends' friend (thks Norman!)suggested this place to be better than our favourite Larkin stadium (actual name is Stadium Tan Sri Dato Haji Hassan Yunos)bazaar.


Upon reaching this area, we were greeted by the musky charcoaled bbq chicken from BABA ayam golek.Mmm…free smells.We noticed that Baba ayam golek are in many bazaars this year.And every bazaar has a different specialisation. We were told that this bazaar specialised in IKAN BAKAR (bbq fish).And true enough,there were many fishes grilled in the open such as stingray…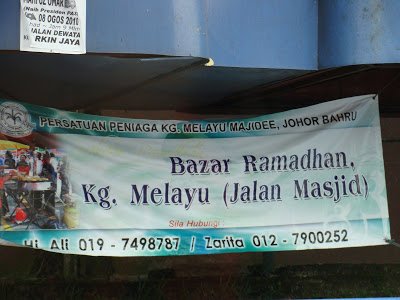 And one important factor, I noticed there is no RAMLY burger (the fame street burger joint) stalls at all. It has been replaced with Roti John or Kebab ala burger.Which is completely different. I laughed it out loud (almost spurt an evil snort) when one of our "makan crew" have this craving for real Ramly BURGER. I replied to him- Probably they all have run to Singapore for business (cos u can see endless streams of Ramly burgers in Geylang,Woodlands.. bazaars and even when its not Ramadan)..
Ok, feast ur eyes..and hold out those DROOLZ buckets…
Will comment only when necessary.
Mutton soup of various parts…

Putu Bamboo…
Roti Canai and Murtabak
Bryani Rice
Cendol but with durian?
Roti John…are like local pizza with cheese and eggs and meat…on toasted baguette bread..
Grilled singray with dollops of chilli paste…
Chicken haven…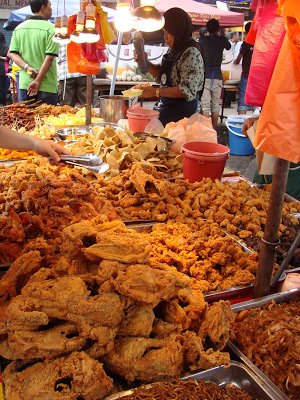 Fried Fritters are often covered in sweet chilli sauce…
Apam balik (chunky style)
These are red bean fillings bun…
Famed Asma Rojak is similar to our Indian rojak but although the gravy colour is brownish, I find that it is very sweet. Not bad…but I prefer my Indian Rojak at Tampinese Central.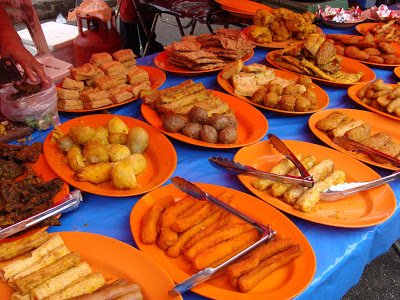 Second bazaar is Taman Suria. I am not gonna take as much shots as previous bazaar cos most have similar varieties of food.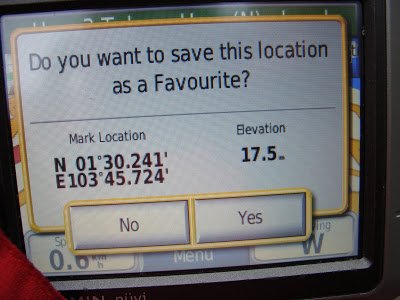 This bazaar is HUGE!! Many rows of stalls probably similar to Shah Alam bazaar…
These KASIH SATAY (love satays) looked juicy and fat!
Ayam percik is one notorious food entity that one must indulge…in Ramadan. *muttering to myself

The below Kacang Pool is definitely different. With thick toasts (they looked like our kaya/HK toasts) and eggs..didn't see the gravy though.

Ice Kacang Special

Nasi Padang or Nasi Kampung sometimes, you can get to savour the far end of Northern Malaysian cuisines…

Tahu Sumedang looked like the fried freshmade tofu sold by the street hawkers of Indonesia

Mmm…these fried Cempedak is so fragrant… *almost floated

This man is frying FRESH handmade curry puffs!

Ok, this is the consequences of bazaar surfing-throngs of traffic congestion from both motorists and human pedestrians…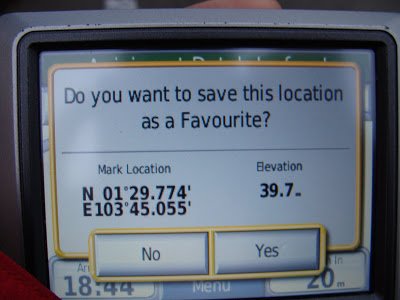 Last but not least is the favourite Larkin Stadium bazaar (they are also open on Sunday during non-Ramadan days )

This ayam percik is nice! They also do catering for weddings and events/functions. Whatever you want e.g Nasi Ambeng, local kampung delights or even ayam percik, ayam bakar , burung puyuh (bbq chicken/bbq quail birds), you can order from them… (number below)

Nasi lemak with ayam berempah (Coconut steamed rice with spiced marinated free range chickens) is always a hot favourite amongst Malaysians.

Smell those CEMPEDAKS….. *floating again
Travel tip/trick: Do watch out for those SUGARY RUSH when you go Bazaar surfing cos the food are often extra sweetish…so take note. Anything that looked scary (some vibrantly red often denotes extreme sweet food) are often SCARY to your body too! So listen to your intuition! Don't feed those evil cravings and just buy everything that u laid ur eyes upon….cos it will end up in the wastebin.
Seafood, u gotta watch out for its freshness and there are oMG…so many flies..so ensure the vendors practise proper hygiene and cover their food properly.Again,check your intuitive vibes…
We stop by Puteri Pacific Hotel (look at the grand iftar buffet!) We were there about 7.30pm just passing thru and I saw the rack of goat/lamb was skeletonny…no flesh left! I think it was their famed grilled meat…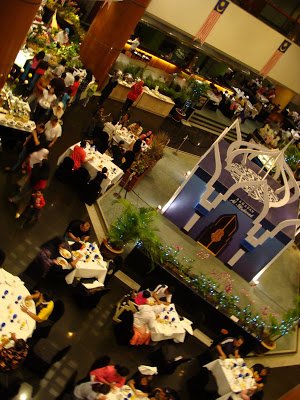 Stop by Kotaraya vicinity for prayers and saw the beautiful Raya cookies and clothes for sale…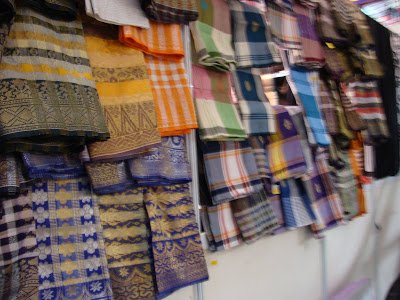 Then head to daily night food bazaar (open even on non-Ramadan days) and started our iftar officially with a hot piping soup of mutton soup. As usual, I tried their tendon soup (sup urat). I read in one Malaysia news articles that they sold BULL TESTICLES (torpedo soup) here. Well, let me try their tendon soup first, if they pass then probably I might nudge the guys to whisper that order to the man.

Verdict: The soup was good but I prefer my favourite one which is at the end of the corner. So I think, I shall give that Torpedo soup,a pass (anyway, I have tested them at Chow Kit, KL previously)

Go to City Square,they are having a mooncake promotion….then my eyes say something greenish in the J.CO (halal in Malaysia but not in Singapore) counter. What?! Avocado doughnuts? Hmm, must try….Verdict:not bad, taste more coffeeish than avocadoish.

Ok, now I can go into full-mode hybernation…. Alhamdulillah. Ramadan journey is complete.
Eid Mubarak, Everyone! Let me rephrase them in my "kiasu" Eid cum forgiveness phrase…
"Selamat Hari Raya, Maaf Zahir dan Batin-dosa2 yang lepas, sekarang dan akan datang, dunia dan akhirat…"
Note: Locals often interlink Raya festive and forgiveness whenever they travel to visit one another. Its like a ritual. So do not be surprised if they enter a house in jovial mode and then leave in teary eyed,mascara mess face, cos often when they leave a house they visit, they will seek forgiveness for sins or wrongdoings (intentionally or not,even if they just met for the first time) with one another by salam (shake hands) and profess their raw confessions moments..
More bazaars' pictures? (previous years)
http://www.worldhalalquest.com/search/label/bazaar%20ramadan%20photos
Disclaimer: Food featured are subject to my personal taste. I hold no responsibility for your body's gastronomical adventure.All food shown are either from Halal-certified or Muslim owned establishments(with no liquour/alcoholic beverages).I will try my utmost best to update and maintain the relevant information shown,insya-Allah…but your body,your responsibility.Do ensure that the Halal-certificates are up-to-date,renewed (not expired) and displayed promptly before ordering/consuming. If in doubt,always ask the staff with a smile.Remember: Use ur senses especially your heart.But mainly, ask your iman (faith). Don't assume: A headdress/scarf lady is not equal to HALAL. "No pork no lard" signage is not equal to HALAL. A crescent moon and star symbol is not equal to HALAL. Not all Mediterranean (e.g Turkish kebab), Malaysian, Indonesian cuisines (especially Nasi Padang food) is HALAL. Whatever franchise that is HALAL in Malaysia,Indonesia or in any muslim country does not mean it is HALAL in Singapore or anywhere else. Your body,your responsibility, check its HALAL authenticity. More on disclaimer?Thank you for your kind attention.
(Visited 50 times, 1 visits today)