The restaurant has closed. Please refer to their Kembangan Branch (near Masjid Kassim)
Country: Singapore
Food: Sponsored
Within a few days of reviewing the 2 months old Teppanyaki Restaurant, I was invited again for the second time.This time, Chef Fancy was around to entertain me.
As previously mentioned, I felt like this Teppanyaki Restaurant is my extended family thus I wouldn't mind visiting it again. I arrived on a Friday nite around 8pm. And boy!…the place was so packed! And I was even surprised when I was told that these people are the second batch of customers.
Well, since Chef Fancy was here to entertain me, let the show begin!


I was in admist a group of pretty ladies watching in awe as Chef Fancy makes his "fancy" teppanyaki moves with a chorus clangs of the apparatus flipping.Chef Fancy was juggling confidently while at the same time, whipping up some delicious menu for me.
In betweens, he did explain in depth about Teppanyaki and various versions in Asia. His 13 years experience did not teach him these fancy moves but instead, he taught himself these moves as he was busy watching a bartender whipping up drinks for his customers in his own unique way. And then, EUREKA! He decided to find out more and decided to partner his chef skills with these entertaining skills for his resume. He said that he wants his showmanship to reveal a part of his sensitiveness-Cooking from the heart.
I applaud his passion in demonstrating his skills to us "LIVE"..cos no matter how prepared or trained you are, you can never be sure of the type of audience that you will be dealing with. And it's always nerve wrecking to perform LIVE but Chef is very cool… in fact, he has a knack of breaking us up into laughters and guffaws intermittently. Very entertaining!
First menu….Salmon,chicken,scallops and vegetables…not forgetting my GIANT rootbeer FLOAT!

They served me 2 methods of cooking Salmon on the teppan. One is stewed and the other is grilled.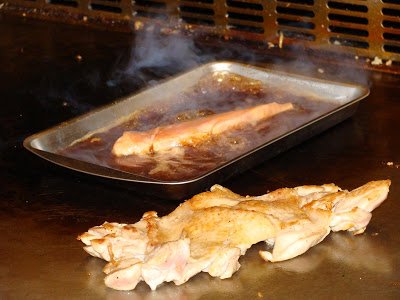 The grilled salmon is deliciously tasty and the stewed salmon is slightly sweet. I love both salmon!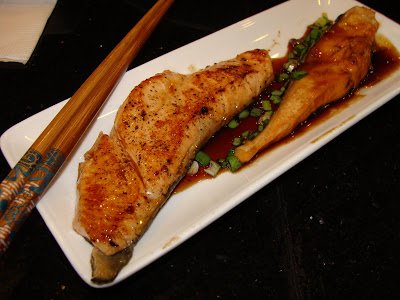 This grilled chicken is different than my favourite Teriyaki chicken (served in previous visit). It is tender and juicy. Nice!

Within minutes, ta-da! My table is filled with sauteed beef (medium), chap chye (Japanese version ) , Garoupa 3 rasa (3 taste) , potato salad and Garlic Rice…

I like the beef, potato salad,warm miso soup and the Garouper. The chap chye vegetables are very interesting with the addition of dashi water in its recipe and slices of seaweed makes it very Japaneesy.The potato salad suit me well. I like its subtleness.
The Garouper is fried crispily and then endowed in a sauce that are rich in sweet ,sourish thick Thai sauce. Like the sambal sting ray(previous visit),there is a certain fragrance in the sambal that intrigued me.

Second helping of grilled Salmon…ooh lala!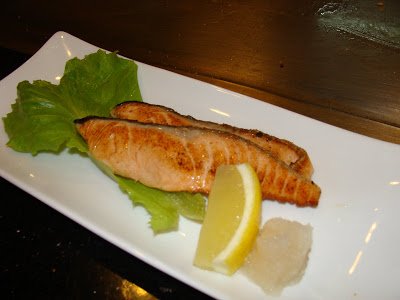 Another favourite is Tempura. I like its light crispyness batter.The dip that came with it is warm and subtle. My favourite has to be the sweet potato tempura.


These are the current Ramadan promotions:
2 pax
1. Chicken/cuttlefish
2. Beef/Salmon/Scallop/Prawn
3. Sambal Stingray/ Sweet & Sour fish fillet.
4. 2 glasses of soft drink of your choice.(7up,Pepsi,Mountain Dew,Root Beer, Ice lemon tea)
Set is served with Japanese rice, miso soup, fruits & green tea.
3 pax
1. chicken/cuttlefish
2. Beef/ salmon
3. Prawn/ scallop
4. Sambal stingray / Sweet&sour fish
Fillet
5. Japotao Salad
6. 3 glasses of soft drink of your choice.(7up,Pepsi,Mountain Dew,Root Beer, Ice lemon tea)
Set is served with Japanese rice, miso soup, fruits & green tea.
Family set ( 4 pax )
1. Chicken/cuttlefish
2. Beef/ salmon
3. Prawn/ scallop
4. Beef/ Prawn/ Scallop/ salmon
5. Black Pepper or Chilli Crab or 3 taste garoupa or Seabass.
Set is served with Japanese rice, miso soup, fruits & green tea.
I was told that afer Ramadan,there is a new promotion during lunch hour. Yeah, there is Teppanyaki available for LUNCH.YIPEE! Reservations is greatly encouraged for all promotions.
Oh well, with a full-bellied tummy…again, I extended my invitation to closing time. This time, I left with loads of delicious stories from various people from the owners to the Chefs. Very enlightening and motivating to hear about their life stories..which makes me determined to see my dreams come true,insya-Allah amin.And, I had great fun too! Thank you, YUREKA!
Previous post: http://www.worldhalalquest.com/2010/08/ramadan-2010-yureka-teppanyaki.html
Location:
Yureka Teppanyaki
Muslim-Owned
No 5 Thong Soon Ave
Singapore City,
Phone:+65 6458 4678
Tues – Thurs:11:00 am – 10:30 pm
Fri:3:00 pm – 11:30 pm
Sat:11:00 am – 11:30 pm
Sun:11:00 am – 10:30 pm
Gratitude:
Especially to Mr Faruk, Mdm Bedah, Mr Daffi and Mr Mubarak and not forgetting the hardworking beautiful staff:
Seafood chef- Chef Ross
Head chef & Japanese Chef- Chef Ong
Teppanyaki Chef- Chef Lee
Teppanyaki Chef- Chef Marcus
Service crew- Jacque, Rodzman, Halimah.
Disclaimer: Food featured are subject to my personal taste. I hold no responsibility for your body's gastronomical adventure.All food shown are either from Halal-certified or Muslim owned establishments(with no liquour/alcoholic beverages).I will try my utmost best to update and maintain the relevant information shown,insya-Allah…but your body,your responsibility.Do ensure that the Halal-certificates are up-to-date,renewed (not expired) and displayed promptly before ordering/consuming. If in doubt,always ask the staff with a smile.Remember: Use ur senses especially your heart.But mainly, ask your iman (faith). Don't assume: A headdress/scarf lady is not equal to HALAL. "No pork no lard" signage is not equal to HALAL. A crescent moon and star symbol is not equal to HALAL. Not all Mediterranean (e.g Turkish kebab), Malaysian, Indonesian cuisines (especially Nasi Padang food) is HALAL. Whatever franchise that is HALAL in Malaysia,Indonesia or in any muslim country does not mean it is HALAL in Singapore or anywhere else. Your body,your responsibility, check its HALAL authenticity. More on disclaimer?Thank you for your kind attention.
(Visited 103 times, 1 visits today)