Country: Singapore
Past two days, I had been sneaking in and out cheekily to the Singapore Heritage Fest2010.Located in the city centre at SMU Campus Green just above Bras Basah MRT station.I was invited to attend their LIVE cooking demonstrations from various Celebrity Chefs like Violet Oon, Devagi and even Asma Laily.
Arriving on site on day 1 in my jeans, I was easily mistaken as a campus student. Entering the white tent,I was surprised that it was FULL HOUSE! I thought I came early for its 6.15pm event but they are much enthusiastic! I noticed the crowd, and I realised I was the only Malay in that tent.(Yeah, I guess many are already busy preparing for iftars or seated in restaurants).
I nearly wanted to give my first day experience a miss because, I was rushing in betweens for the Ramadan series and what good will it do, if I can only have FREE smells at a LIVE cooking demo, right?(fasting,remember) But because the invitation stressed out that this is the AUTHENTIC MEE SIAM, the original version from Thailand…and the guest chef is the distinguished Mr Monchai Phatchanee, Minister & Deputy Chief of Mission from the Royal Thai Embassy (wow!) ,so can I ever say no to such an invitation?

Thus I adamantly make my way there in full bloom determination to find out more about the REAL MEE SIAM. One question was playing like a broken record in my mind-Have we actually been consuming the Mee Siam Clonez?Hmm…Let's find out!
First and foremost, I have learnt that Mee Siam is not pronounced as Me-See-Yum but its originally pronounced as Me-Sar-Yam in Thailand. Now, repeat after me, are you ready to learn to make Me-Sar-Yam? *chuckles Oh jolly, I cannot wait…
Ok,the recipes were handed out and too bad, I was the last one thus I didnt get any but Andrea promised to email me by Monday(thks!) so this is what I did. I used my camera and zoomed onto a neighbour's recipe…kinda like a spy cam.(hee!)

And the ingredients didn't differ much than the local Mee Siam….
Ok,let me intro the ingredients first:
-250g of rice vermicelli
-2 cups of coconut milk (Mr Monchai stressed on freshly squeezed coconut milk is preferred)
-150g of minced pork (or chicken/prawns)
-2 tblspoons of sugar
-quarter cup of fermented soya bean
-2 tblspoons of tamarind juice
-8 stalks of garlic chives
-stalks of coriande leaves
-2 teaspoons of roasted and ground Thai dried small chilli
-2 red chillis shredded finely sliced
-6 small red onions chopped finely
-150g of shrimps deveined with tail intact
-1 egg lightly beaten
-1 piece of hard tofu
-300g of bean sprout
-2 teaspoons of cooking oil
COOKING METHOD
Soak rice vermicelli in water for 10 minutes and drain well.
Cut tofu into small pieces, wash chives and cut the green part into 1 inch strips.
Heat the wok with low heat, add oil and wait until it is hot, Pour the beaten egg and move the pan in circular motion, make sure that the egg covers the entire lower surface of the wok.
When cooked, lift it from the wok. Roll the egg sheet and cut into fine strips.
Boil coconut milk with medium heat until the oil separates, then add pork, chopped onion, sugar, tamarind and stir. Add tofu, roasted chilli and shrimp, stir again. Pour half of the sauce out and leave the remaining half in the wok.
Add rice vermicelli into the wok and stir. Add half of the bean sprouts, and chives. Stir until the sauce is absorbed.
Serve onto a dish and pour the remaining sauce on top. Garnish with egg strips, bean sprouts, chives, coriander leaves, red chilli strips and 1-2 pieces of lime.
This Mee Siam's recipe is based on influence from the Indians and Chinese. But in Singapore, it is known to be Peranakan…Nyonya cuisine. Anyway, for that reddish colour(actually the colour kinda freak me out,at first..), he uses beetroot juice.He said that it is better for health.Hmm, interesting. Ok,makciks…starting from today, please change to Beetroot juice.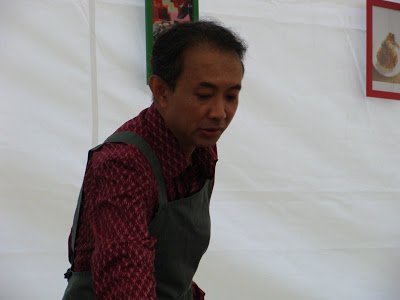 As he stirred and cook his recipe, he further emphasized that never trust recipes, the quantities shown are just approximate. You got to trial and error to suit your own palate.
At the end of it, to the delight of many visitors watching the demonstration, I realised that this Mee Siam is the dry version. I can only visualise the taste (minus the pork of course) is similar to Indian Mee Siam (which is more coconutty creamy) but instead of the dollops of gravies, it is made into a dry version…Woah, it should be creamy savoury Mee Siam,sweet and sourish spicy with the eggy omelette strands and chives…chillies and all that.
But then, one of my favourite blogger who turned Entrepreneur has a Malaysian Mee Siam recipe which i find it to be candidly similar to Mr Monchai's recipe.Check it out!
http://rasamalaysia.com/mee-siam-spicy-rice-vermicelli-recipe/
So which one do I prefer? Local vs Thai. Hmm,tough one… I embrace both variations-the original and the clones cos both have its own unique identity.They represent a different group of people. So while, I enjoyed slurping on the gravylicious Mee Siam, I also might asked for the Thailand version if I ever happen to drop by Thailand. Never say no to the best of both worlds…
So for the porky minced meat, you can opt to substitute that to minced chicken meat,or if you prefer, seafood will be good and prawns are said to be the popular option.And the colour of the vermicelli canbe naturally redden by the use of prawns in the ingredients.
I was told that at night, there were various concerts kinda retro cos they perform the 70s-80s songs…and it wasnt easy locate these old-timers, some have even migrated to Australia but they come down to give Singaporeans a dose of the old rolling good times.
Anyway,the next day…in my jeans and cartoony CARS tee(yeah lightning McQueen), I strolled down in the early afternoon sun to catch a glimpse of one of my favourite COOKING Guru. You can often see her in Suria, a Malay TV channel or even see her many recipe books in the mall. For me, not only that, she is also whipping my favourite Malay food, SAMBAL GORENG, WOO-hoo!
Chef Asma Laily aka adoringly as Mami (aka as Queen of Lemongrass cos she loves to add that to every of her cooking) started out as a deejay. She was quite a unique personality with vibrant characteristics back then till now. She was also very courageous to learn the scooter (long time ago in her youth) and was famously known as the only female motorist back then. Cool, huh?
Again, it was a FULL HOUSE phenomenon. When I reached, I was unseated cos all the seats are occupied (Again?!)Mami was rallying the visitors for some basic info on Malay cooking and touch upon the basic history of Sambal Goreng. Although Malay cooking is said to be quite on the unhealthy side with heavy dosage of coconut milk and all that, she actually skim the oil, remove the chicken skins, uses red sugar instead of the white ones and also, she avoid eating internal organs of animals.Hmm…interesting.
Ingredients:
-1 kg tender beef/mutton or boneless chicken (wash,clean,and for chickens only-get rid of all fats and skin),slice thinly.Fry till half cooked ,transfer to bowl and set aside.
-1.5kg of medium sized prawns-skinned,fried and set aside (Im not sure what it meant by skinned but I did see the shells are still intact)
-10 pieces of tempe -slice 1 cm thick and fry (but not to fry till crispy)and set aside
-2 small boxes of coconut milk (dilute with 2 boxes of water same size)
-10 fresh chillies sliced
-3 big onions sliced
-30 stalks of dried chillies
-half thumb size gallangal
-8 big onions
-2 pcs of turmeric leaves
-half cup of crispy fried shallots(ready made packets)
-salt to taste (she prefers sea salt cos of low sodium)
-5 fresh green chillies sliced
-6 cloves of garlic sliced
-4 stalks of lemon grass (only white part)
-6 cdloves of garlic
-quarter cup of thick tamarind juice
-4 pieces of lime leaves
-Sugar to taste
COOKING METHOD
Fine blend the following ingredients (30 stalks of dried chillies, 4 stalks of lemon grass, ½ thumb size gallangal, 6 cloves of garlic and 3 big onions). Stir fry the blended ingredients until cooked and the oil rises. Add in lime leaves, turmeric leaves and stir again for a few more minutes till fragrant.
Then add the sliced ingredients and stir again until well blended. Next add all the fried ingredients (beef/mutton/boneless chicken, prawns and tempe) and stir. Pour in part of the coconut milk first and keep on stirring until all the ingredients are well blended. Add the tamarind juice and salt, allow to boil. Pour in the left over coconut milk and cook until the gravy thickens.
Once the gravy is thick, add the crispy fried shallots, stir again and add in sugar and salt and stir again and taste, if the sambal needs more salt, do not add immediately. When the oil rises, switch off the fire. Allow the dish to cool, and then taste again. If it really needs more salt and sugar, then add whatever is necessary. This is a typical Hari Raya dish. Extremely delicious if served with ketupat, lontong, lemang, or can also be eaten with white rice and crunchy French loaf.
One thing about her recipes is that, she mentioned often-do not substitute the herbs stated in the recipe.If it's stated Daun Salam, use ONLY daun salam and mere similarities of Bay leaves is still not justifiable for substitution of the real thing.They can be easily found in most markets and if unsure on its English name, just head to Geylang Serai market.This recipe is handed down by her mother to her.
Thus , you can be sure this sambal goreng will be smackingly GOOD! I saw many dribble tricklets of perspiration in the hot weather but many also give the thumbsups! (Sadly though, I didnt get to taste it, but it's ok, I got a great feeling that our path will intertwine again,insya-Allah who knows I might get to taste a feast created by Mami? *wink)
It was fun watching her converse in good English to the many Chinese, Indian and Ang-Mohs (Causcasians) visitors (again, I was the only Malay).I learnt lots although I already knew the basic of sambal goreng cooking. I must remember that cekur, daun salam, serai, lengkuas, daun kunyit are all essentials in this recipe. And she even taught us how to make Lemongrass tea.It was said to help to cure Cancer patients (research done in Israel).
After all was done, I went forward to snap a picture and unknowingly, Mami asked me whether I will try to cook this during the coming Raya and I almost immediately replied, Yes,insya-Allah (but I had forgotten that, I already wrap my kitchen for the month, yikes!I dunno about you, but I love to wrap kitchens..it looked kinda neat and clean *chuckles)Well, who knows, perhaps, I might sneak into my auntie's kitchen and make a mess. My kitchen philosophy is-"Best to make a mess in someone else's kitchen than your own" *wink
Looking at this whole pot of sambal goreng (below)…Oh boy, I wish I had brought my tiffin carrier or something…. *droolz .All I can say to her is "Mami, Mintak ampun SEDAPNYERRrr… "-her catchy favourite phrase.
After the LIVE demo, I wandered along the fiesta grounds, I saw many unique stalls of artworks creativites (duct tape into wallets?!) ,ideas, glorious food stalls and I even saw some people on stilts!wow!
Ok,got to go now….
Fyi-The Museums are all FREE admission till 10pm except Philatelic (Not free,50%discount) and Asian Civilisation (FREE) till 7pm today.
So come on down , bring your families along!
Location: SMU Campus Green (Bras Basah MRT station exit B)
For more info,contact them at 67360503 or click:
http://www.heritagefest.sg/

Gratitude:
Thank you to SHF and especially to Andrea for this media invite!Love it!
(Visited 80 times, 1 visits today)