Country: Singapore
Food:Sponsored
I always believed that a good food writer should never announce her arrival. But after I appeared one night on an impromptu intuition and caused quite a huss-fuss commotion. I'm gonna rephrase-Well, probably for some top-notch restaurants, it's best to inform them earlier.This way, you can get the freedom to move freely and take food shots endlessly and you can get to interview the "celebrities" behind the glitzy array of delicious food displays…and fall in the arms of splendid hospitality of the gorgeous staff..Oh wow! I felt like a renowned NYC food critic already *chuckles


Earlier this year, Carousel has been voted (by the public) as the best buffet restaurant in the People's Choice Awards 2009. But that did not stop there, their endless curiosity and passion in food gastronomy motivate them to raise the bar even further with the introduction of Avant-Garde Cuisine in their extravagant buffets.


Now what is Avant-Garde Cuisine? In Wiki, it literally meant as an adjective in reference to innovative and experimental works or people.
For me, it meant that I'm a step closer to El Bulli I do have this fancy dream of backpacking across Spain ,probably couch surfing, scringing on every dime and skipping on meals just to have my last meal but a very grand luxurious one (before heading home) at El Bulli (when daydreaming, u do not include the realistic what-ifs: i.e-is it Halal?,will I get my seat?.. u just continue daydreaming for the fun of it! *wink).And missing out on Chef Ferran A'dria's recent visit in Singapore, I felt kinda left out (where was I anyway?).But Carousel makes me smile with it's ingenuity of creating it's own rendition of "El Bulli". I embraced this type of extraordinary food escapades especially when it is Halal! woo-hoo!

Ok,cut to the chase, Avant-Garde cuisine in Carousel involves techniques such as restructuring the DNA of food to achieve characteristics that were once impossible to attain, yet retaining the original taste of the dish. Mind boggling, huh? I love the thought of it! Ok, more info…
Sous-vide, a slow cooking process conducted at a consistent low temperature to retain protein, infuse flavours and obtain an exceptional tenderness of the product. Spherification, a phenomenal process turns liquid into caviar or ravioli, by forming an instant membrane.
Watermelon caviar
Ok, it's time for the ultimate tasting! As I scan thru the gorgeous food counters, I am at loss as to where I shall begin!

There are seafood counter (oysters,mussels,scallops,crabs,prawns…), Japanese counter (sashimi,soba noodles and sushi),Drinks counter (fruits), Avant-Garde, Mediterranean counter (includes pasta and rotisserie), 3 Dessert counters (a chocolate fountain, hot desserts and Asian desserts-you got to be kidding me?!!),Asian counter( local delights: chicken rice, lor mee,briyani..),Salad bar counter with in house homemade vinaigrette and dressings and last but not least, Bakery counter (freshly baked bread and cheese).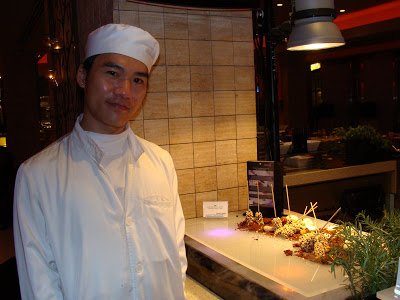 Then in my confusion,Chef Elvis came to my rescue.He volunteered to give me a friendly tour around. He explained that they are very passionate in wanting to elevate the quality and introduce interesting unique food experience for local and international guests in the local Halal scenes. They want to bring exquisite food at affordable price for the enjoyment of all (mass public).One of them is the goose liver. I almost did my jiggety jaggety dance as I saw those little nibblets coated in luxurious Varlhona Chocolate and Hazelnuts crumb.


It's been one of my wishlist. And here it is, right in front of my eyes, gleaming in its embedded coat of haughtyness. I took a bite, ooh…liver in chocolates..Mmm, it tasted like chocolates (what?!). As Chef Elvis explained, the chocolates is to mask any unpleasant after taste to adhere to customer's tastebuds. Cos many don't really like liver (not me!) squish,bitterish and slight tinge of nauseous.I do want to scrap the outer layer just to taste the barest essentials of the goose liver (it's not everyday, u get to eat goose liver,right?) but it's gonna get messy (maybe another visit,another day as a disguised commoner..*chuckles)
Ok,seriously, the liver is somewhat like steamed chicken liver but its more dainty tongue tingling squirminess.It's nice. I should have taken a dozen sticks!


Next is Tomato Jelly Consomme.They looked like test tubes smuggled out of high school laboratories. I am quite the clumsy lab partner but if I can handle this, so can you! The consomme is jelly like consistency so no problem in placing them on your plate or be like me, just drink it on the spot. But wait….
Before…
You gotta cover the test tube opening with your thumb and give it a round of hard shakes and wa-la! its good to drink. Somehow the shaking method kinda liquefied the consomme. And how does it taste like? Like yummy Miso broth!Interesting!

After…look at the bubbles formed!
Ok, I shall not indulge into too many details, because I can take hours just explaining these delicious bits and pieces. But its best if you go down and enjoy it physically and emotionally.
What I like best amongst the avant-garde food, is the Mango ravioli.It looked so cute! I felt like pinching it,squishing squashing it. As I let it slithered into my mouth, oh wow! It felt like "Dunlopillo springy" outer pulp with pure mango juice jelly filling-combined.
Mango Ravioli
And not forgetting the 60 seconds smoked lobster with dollops of REAL caviar..ooh lala!

Sometimes, there will be Chefs showcasing their artistic experiments right in front of the diners. And liquid Nitrogen will be there as one of its special stars.
Amongst the glorious food, my favourites have got to be their order-and-cook on the spot raviolis in tomato base sauce.Bernard and Robin have intricately cooked the pasta to my fussy instructions.And boy, it was GOOD!
Next favourite is the melt-in-the-mouth organic beef ribs grilled to perfection *drooling.It was so tender..and yummy. When I was served,Nelson asked whether I need to trim the fats- I said almost immediately-No! They are the best parts! *grin And there are many types of sauces and dips for your meat.
Hey! I saw Boeuf Bourgoignon and Pan Fried Torchon of Lamb shank in truffle reduction! woo-hoo another top 2 must try in my wish lists. And best part is I do not even have to fly out of the country. It's right here in the bustling shopping area of Orchard Road!!
Beef bourguignon is a dream come true eversince I watched the movie Julie and Julia.I have been imagining it since then. And this dish reminded me of Julia Child's endless pursuit of excellent taste.
Another ingredient-truffles…oh my…although its just a hint of truffles oil, its enough to puff me into another dimension with its exquisite fragrance.I also learnt (thks Bernard!) about an unusual vegetable called Silverbeet (it doesnt look silverish at all..)It is green and has an acquired taste.
Chef Elvis also concluded that there are many things that cannot be found in local Halal markets/suppliers thus this motivates them to do individual recipes from scratch. That includes vinaigrette/salad dressings, some cheese..and many more.
I was so full to the brim that dessert almost escaped me. I was waiting for my chance to snap the gorgeous chocolate fountain but it seems like its a definite "lovers area" cos they seem to romantically linking arms and graciously "fondueing" their fruits in their own delicate world.
While patiently awaiting their exit, I saw something in the far corner.It's Creme Brule-custard/burnt cream sprinkled with sugar and later said to be broiled. The first time I tasted it was at one of the restaurants in Simpang Bedok (now no longer around) and it did not catch my short-attention span. But this one…Mmmm…I'm in my own custardy world…yummilicious!
This whole experience will last till 30th of September with a slight addition- Peranakan Cuisine.
So all of you…especially to those who are food lovers (like me), do not, I repeat, do not give this a miss, it shall be one of your biggest loss! Come on down and decorate your palate with such unique gastronomical arrays. You will be blown away!
So what are you waiting for? Come on down with your families, friends,lovers, teachers, grandparents…and have your iftar (break fast)here! Dates will be provided.Early reservations are greatly encouraged.
More info:
Buffet Dinners-6.30pm-10.30pm
Adults- $58+ (weekdays) and $70+ (weekends)
Child-$37+(weekdays) and $42+ (weekends)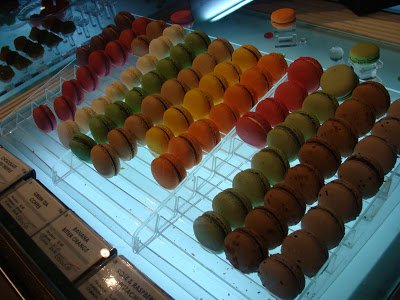 Oh, as I gazed lovingly at the beautiful displays of Macarons and Meringue, I was kinda pulled by a certain magnetic pull that I ended up buying a whole box of 12 macarons for a whopping $27+ (yikes!) But, it was so good and light…a sort of once in a lifetime sweet indulgence which I never regretted… (except the white one-tasted like garlicky and purplish one-tasted like Im eating a Lavender room air freshener or something) that they disappeared almost immediately in my "gluttonous" mouth.Refrigeration needed but in my case-its all gone before I ever get to the fridge (if I have one).
Location:
Carousel
Royal Plaza on Scotts
25 Scotts Road Singapore 228220
Tel: 65897799
Fax:65897819
carousel@royalplaza.com.sg
Gratitude:
Thank you to Royal Plaza on Scotts Hotel and Carousel Restaurant and the powerful people behind them….
To the gorgeous and loving staff of Carousel, especially to Chef Elvis, Ningxi,Seri, Jasini,Mogan,Bernard, Robin,Nelson and Ben: Thank you so much for all the help rendered and the friendly hospitality. Love it!
Note: Most HALAL-certified restaurants in hotels are actually referring to HALAL kitchen. Because often,there will be liquour sold in the same premises.So take note and do not be alarmed.It's like a foodcentre concept:whereby many non-halal stalls and Halal stalls are under the same roof.
Disclaimer: Food featured are subject to my personal taste. I hold no responsibility for your body's gastronomical adventure.All food shown are either from Halal-certified or Muslim owned establishments.I will try my utmost best to update and maintain the relevant information shown,insya-Allah…but your body,your responsibility.Do ensure that the Halal-certificates are up-to-date,renewed (not expired) and displayed promptly before ordering/consuming. If in doubt,always ask the staff with a smile.Remember: Use ur senses especially your heart.But mainly, ask your iman (faith). Don't assume: A headdress/scarf lady is not equal to HALAL. "No pork no lard" signage is not equal to HALAL. A crescent moon and star symbol is not equal to HALAL. Not all Mediterranean (e.g Turkish kebab), Malaysian, Indonesian cuisines (especially Nasi Padang food) is HALAL. Whatever franchise that is HALAL in Malaysia,Indonesia or in any muslim country does not mean it is HALAL in Singapore or anywhere else. Your body,your responsibility, check its HALAL authenticity.More on disclaimer?Thank you for your kind attention.
(Visited 22 times, 1 visits today)