Country: Singapore
Food:Sponsored
First and foremost,don't be surprised if I have not eaten any Shepherd's pie in my many quest of HALAL food. In fact, I realised that there are many delicious food that I have not tried yet.
Shepherd's pie company has been in business since 2007, but they were only Halal certified in 2009. And I did hear some raving reviews from my peers and some thru media.They are also voted as one of the top 100 yummies by Sunday Times(4.1.09) and Berita Minggu also give them their thumbs-ups.
I wanted to try their pie at Simpang Bedok early this year but found out that they have moved to a bigger premise, a central kitchen to cater to the expanding clientele.Since the new location was kinda unknown (actually near Simpang Bedok), I push it off till I was invited for tasting…today.
Doing a brisk research on this topic, I realised that the owner Teddy did an even better job at "researching" me. He knew more about my blogging skills than myself.

Appeared after a light iftar, I was there promptly at 8.30pm. The area looked dark and lonely but on the 6th floor,this place is litted up for business. Embracing my presence is Teddy who warmly greeted me at the gate.
Glancing at my surroundinsgs, I noticed their Halal certificate.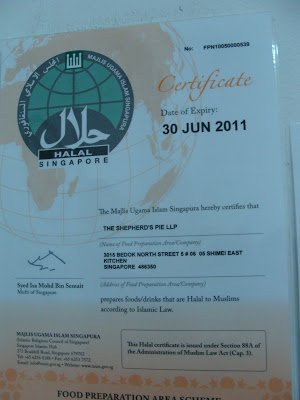 And since they are gonna be closed by 9pm, I shoot my mouth with endless questions without even giving Teddy a chance for a breather.But he answered me in a series of relaxed, detailed answers.
History?
It all started out when he was a teenager. He was often served with shepherd's pie in events like Xmas, celebrations..And back then, he did not know the name of such delicacy. To him,it tasted good and it bring back fond memories. As time goes by, he became a hard knock shepherd's pie fan. Later as his wife found out his fascination with shepherd's pie, she try out recipes and eventually come out a shepherd's pie recipe on their own. They host family events and friendly celebrations with these new recipes and they love it!
And they decided to share their Shepherd's pie recipes with the rest of Singapore. As they became popular, there are many requests for it to be halal thus they obliged and now, everyone can enjoy a piece of their "passionate yummies" in the comfort of their own home…even vegetarians! Teddy called it his comfort food.
I have no qualms of the debate whether it is called Shepherd's pie or cottage pie (cos shepherd's pie originally uses lamb). To me as long it taste good, it can be called whatever it want to be called. I couldn't care less.
And so the moment of truth is revealed as I was served a slice of hot and piping Shepherd's pie with black pepper chicken filling.(again, I have heard many raving reviews on this filling thus my curiousity knocks). Truthfully, I am not a pie-person. I do not take time to have pies. I only eat pie when my crazy cravings kicks in.Or perhaps whenever I am in overseas.
But fret not, first time is always very crucial and I try not to have any perception yet. I shall indulge with an open mind.
I was shown the right way to cut the pie and served it on a plate so that it looked palate-bly charming. As I spoon fed myself, I realised unlike the normal mashed potato, it is not that dense or watery.It is slightly dry. And I like its crusty mashed potato top. The chicken meat is tender yet chunky. And I absolutely adores the cruchiness of the vegetables in the filling. Teddy told me that they only use FRESH vegetables and not frozen. Thus I almost scream in delight as I crunch on bits of the celery stems,corns,carrots….
The sweetness of the pie originates from these freshies.It's black pepper flavour is not that spicy, moderate.So I believe even kids can join in the fun!And they do not use any msg but only the best and fresh ingredients.And since it is baked and use less oil, it can be considered as a healthy food.
Teddy filled me in on the details on how to whip up such a pie. One can do it at home but it will almost take that person about 2hours (yikes!)
He further advised that any leftovers be refrigerated and only warm it up in the oven /microwave whenever you feel like eating. Some customers said that the food tasted even better,the next morning.
They do delivery specifically on the Eastern Side of Singapore, but also cater to other regions with a delivery fee ($3-$5).And other region-please take note to call in earlier especially nearing closing time, best is to call by 8pm(closing is 9pm).But those with delivery order of $100 or more will have the fee waived(yipee!).Price range is about $24-$26 and one pie can feed up to 4-6 persons.(but actually..it depends, if you are a hardcore Shepherd's pie fan, you can even wallop the whole pie by yourself! *giggle)
Their pies :Original classic beef or chicken filling, black pepper chicken/beef,lamb and totally meatless (vegan) filling.And there are 3 types of carbonated drinks (pepsi,7-up,Rootbeer) sold.
For more info, click on to their website:
http://www.theshepherdspie.com
Ramadan promotion? None at the moment, but it will be a rewarding experience to surprise someone for that special iftar or perhaps for special occasions like Xmas parties or office celebrations,house warming events…So what are you waiting for? Call them at 67890707 now!!And I heard there will be a new Shepherd's Pie outlet at the Central Mall at Clarke Quay MRT soon …(yipee!)
Oh did I forget to inform you that there are fresh mozzarella cheese inside? yeah, kinda like eating pizza. But I didnt even notice its cheesyness.
Location:
Blk 3015 Bedok North St 5
#06-05 (Take Passenger Lift Lobby B)
Shimei East Kitchen
Singapore 486350
11am to 9pm
Telephone: 6789 0707
Gratitude:
Thank you to Shepherd's Pie for this cosy invitation especially to Teddy.Not forgetting the hardworking staff who are 90% muslims who are fasting and at the same time churning hard to produce these mouthwatering pies,not forgetting Supervisor Norizam and the guy whom I scared silly at the lift (he advise me not to tie the plastic too tight cos it will condensed and vapourise).Fascinating.
p.s: Well,this cosy night kinda make me want to eat this chic pie again and again and again. It's filling thus when Im full, I stop but then an hour later, I found myself tiptoeing into the kitchen like a cat burglar…rummaging the fridge for the remnants of it.Mmm…a word of warning: It's addictive.
Just a quick note to my mama:

Dearest Mama,
don't pressure yourself
to hurry home
I am cosy and comfy
with the generosity
of my own community.
They want to prep me up
fill me up and make me
into roly poly.
And for sure,
with comfy food as these
I am snugly hugged by
the delicious food offered.
Take your time.
Disclaimer: Food featured are subject to my personal taste. I hold no responsibility for your body's gastronomical adventure.All food shown are either from Halal-certified or Muslim owned establishments(with no liquour/alcoholic beverages).I will try my utmost best to update and maintain the relevant information shown,insya-Allah…but your body,your responsibility.Do ensure that the Halal-certificates are up-to-date,renewed (not expired) and displayed promptly before ordering/consuming. If in doubt,always ask the staff with a smile.Remember: Use ur senses especially your heart.But mainly, ask your iman (faith). Don't assume: A headdress/scarf lady is not equal to HALAL. "No pork no lard" signage is not equal to HALAL. A crescent moon and star symbol is not equal to HALAL. Not all Mediterranean (e.g Turkish kebab), Malaysian, Indonesian cuisines (especially Nasi Padang food) is HALAL. Whatever franchise that is HALAL in Malaysia,Indonesia or in any muslim country does not mean it is HALAL in Singapore or anywhere else. Your body,your responsibility, check its HALAL authenticity. More on disclaimer?Thank you for your kind attention.
(Visited 42 times, 1 visits today)