Country: Singapore
Food : Sponsored
Lucky Plaza…aah…the sweet queer smell of familiar mall.I used to hang out this area in my teens,swapping between part-time jobs. Now, as U elevate to every floor, there is a distinct smell of segregrations between Indonesian Cuisines, Filipino chatters and hustling of warehouse goods which you can get cheaper elsewhere. But I like its chirpy buzz.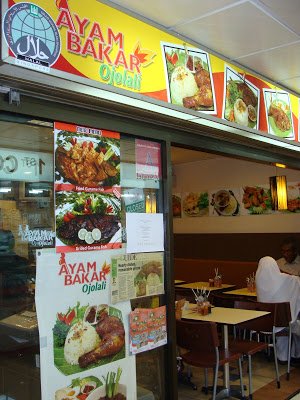 Located in a spiral secluded corner of this shopping mall,there stood 2 Ojolali Restaurants. And I also noted,there is an Ayam Penyet restaurant in the same row. One restaurant is catering more to the dining customers, whereas the other stood out more like the extended back of the kitchen area. I had the opportunity to seat in both areas. One was exceptionally cold while the other was slightly breezy.

Around lunch time, on the dot, I was there like a speeding bullet. Dodging thru masses of shoppers rushing for the Great Sale Nationwide. I was rushing for the Tummy SALE.
There were already seated small crowd enjoying their meals in their own stupor, almost trance-like dreamy state enjoying their meals. I glanced at my "neighbouring" table. A man dressed smartly in white business shirt and black pants were busily devouring a grilled chicken plate and additional plate of side dish which looked like a "dancing fish" (to me).He hasn't noticed my icy stare of interest watching his every hungry bite.

Here I was almost freezing in cold,while waiting for my dining partner, I scrutinised every corner and crevices of the restaurant. So much so,the staff scatteredly disappear from my sight (or probably busy with their orders). Like an eagle,I swooped down and caught up with one staff. I interviewed one of their staff name Anik.She was shy but later,slowly warm up to me after I shoot my mouth off with endless bullets of questions.
I was told there are 2 favourite drinks there. One of the Es Ojolali (Ice pink coconut drink) and Avocado Juice. Being greatly disappointed not able to pamper myself with the Waroeng Penyet's avocado (previous post), I jump at the opportunity to quench my thirst with theirs. And I must admit, out of my-not-so-wide-variety of avocado juice tasting (from Indonesia to Singapore to California), I must admit, this reign as one of the top notch ones.
One look, I was kinda scared cos it looked so thick like a jell-o.I fear, I need all that suction power to really suck it all up in one gulp thru the minute straw. But my fears are unfounded. Made from 100% authentic Avocados from Indonesia, this drink is so creamy,naturally sweet and with that swirls of pure chocolate sauce, it sure makes me squirm in glee like a high school girl. And the cold temperature did not stop me from finishing it in 3 slurps. It's like the American milkshake (I tasted in California).Authentically thick and creamy.
Aah..my dining partner has arrived but said to say he is not joining me for chomp. But it's ok, I brought along two tummies (internally and externally). Mr Kiki, one of the owners further emphasized that it's essential to use real Indonesian Avocados in their drinks because the others like Australians are not that creamy and have a slight bitterish taste.
I was then moved to a quieter dining area (yeah,the elongated back kitchen dining) for a private conducive dining.

For my first course, I chose yet another award wining drink (from their menu)- the Icy pink coconut juice. It is pure coconut juice with strips of coconut flesh, cubics of jelly and tadpoley like basil seeds (biji selasih) and not forgetting the pinkish colour of syrup.
Coconut juice has long been a good nature thirst quencher ,low in calories and high on electrolytes.And if you are in the maddening blistering heat of Orchard shopping,do come by for this refreshing treat.
I was soon served with this infamous :Ayam Bakar" and "Ikan Goreng Kipas" (yeah the dancing fish). Actually, I wanted to try their Ikan Bandeng(milkfish). I was intrigued to hear that the fish bones can be eaten. Cos I am one of those picky fish eaters who try all means to avoid the hassle of picking out bones and flesh.(who in their childhood has probably swallowed tons of fish bones ,which I believe still stuck somewhere in my rib cage or lingering in one of my digestive tracts…)But anyway, slight misunderstanding, I was served with the higher priced fish (on the menu) and there is no way, I can say no to that…


So how does the grilled chicken tasted like?
I tasted it naked on is own without any sauces or dips or side dishes.It was well marinated with subtleness of myriad Jogjakarta spices in its own original recipe.With a gentle hint of sweetness lingers as I munched on its tender meat.
And then I tried with the rice and the lethal chilli sauces. Vavavoom! Steam comes out of my mouth. I was having a bad tongue cut/scald that day but that did not stop me from putting dollops of their "cili kicap"-sweet lethal spicy dark soyasauce. Indonesians only put one third of that with 2 thirds mixed with the reddish sambal belacan. But I prefer mine 100% all black!

The Cili Kicap alone makes me happy. It reminds me of my short stint growing up in the back of Aziza's Restaurant and kitchen (famously known at Emerald hill).One of my favourite food was the Ayam Kasturi.Their rich aromatic gravy reminds me of this.Why? Because the special ingredient is the beautiful aromatic coriander seeds.Mmm….
I was sweating profusely…but I am enjoying my every bite! Woohoo!

Next was the Crispy Fried Fish. I nicknamed it "dancing fish" because it looked as though it was elegantly poised in some intricate Indonesian dance move. Mr Kiki did mention that I can have it "Takeaway" if the food is too much for me. Well, Im sorry to disappoint Mr Kiki….
The fish although looked huge for 1 person,it was a deliciously crispy yet tender.Its fresh white tilapian meat keeps my tongue wagging for more. And before I know it, Poof! All gone…no doggy bag, needed…and of course the dollops of cili kicap is my magic wand.
They give me a small beefball soup. But it doesnt look enticing and so I chose to ignore it til 75% midway finishing my meal, in sudden fiery thirst of searching for "extinguisher", I lapped some soupy broth and bite onto the beefyball. It was so good! Ok, if IKEA not selling HALAL meatballs in Singapore, I'm settling for this anytime..the beefy balls are so tender but so rich in taste!Mmm…
If I have a third tummy, probably I will order their chicken noodles. I heard it is a hot favourite amongst the Indonesians.
But for now, I am seriously in trance just like the state of the customers I saw when I first seated myself.
And I did tried their food in the foodcourt branch in Toa Payoh Fork and Spoon.That was my first encounter with Ojolali grilled chicken and often, i have this many conversations with media and local malays. We are always pondering why are there a long queue for this chicken?Even after trying the chicken there, I am still mystified.
But when I get to their main branch in Lucky Plaza, I understood well. This is the place to go, fellas. This is where you should try authentic Indonesian grill. Now, I shall join the league of Glenn Ong (Class 95FM DJ) and others who ultimately loves their food!
As I wave goodbye….I left as a new adoring fan…And like its Indonesian translation "Ojolali"-It will be included under my "unforgettable" list of grilled chicken that I have tasted locally.
Gratitude:
Thank you to Ojolali for this beautiful connection. Especially to Mr Kiki who has equip me with loads of information about Ojolali brand and embraced me..and not forgetting Anik for her friendly gestures and the staff who awaits and serves me.Thank you.
Ramadan Promotion?
There is no Ramadan promotion. But all customers will be served with dates and a possibility of some dessert. Do check with the restaurant for more information. Dinner is always packed even not in Ramadan months and they don't accept reservations, only walk-ins. So be there early,be seated with your family and enjoy your iftar there!
Location:
Ayam Bakar Ojolali
Lucky Plaza #03-39/43
tel:62353597
Open daily:12pm till 9pm
Catering services available (tel:91551119)
Www.ayambakarojolali.com
Disclaimer: Food featured are subject to my personal taste. I hold no responsibility for your body's gastronomical adventure.All food shown are either from Halal-certified or Muslim owned establishments(with no liquour/alcoholic beverages).I will try my utmost best to update and maintain the relevant information shown,insya-Allah…but your body,your responsibility.Do ensure that the Halal-certificates are up-to-date,renewed (not expired) and displayed promptly before ordering/consuming. If in doubt,always ask the staff with a smile.Remember: Use ur senses especially your heart.But mainly, ask your iman (faith). Don't assume: A headdress/scarf lady is not equal to HALAL. "No pork no lard" signage is not equal to HALAL. A crescent moon and star symbol is not equal to HALAL. Not all Mediterranean (e.g Turkish kebab), Malaysian, Indonesian cuisines (especially Nasi Padang food) is HALAL. Whatever franchise that is HALAL in Malaysia,Indonesia or in any muslim country does not mean it is HALAL in Singapore or anywhere else. Your body,your responsibility, check its HALAL authenticity.More on disclaimer?Thank you for your kind attention.
(Visited 40 times, 1 visits today)