Country: Singapore
Food: Sponsored
My eyes twitch with interest at the sight of Tiffany Cafe and Restaurant. I had been wanting to come here since 2 years back.It was always popular and often whenever I enquire,it was fully booked. Thus, I waited out till I fly in and out of the country and then I forgot about it.
Didn't I tell you once, that if you let go of a certain intention, it will somehow come to you eventually without you expecting? Well, it was a splendid surprise indeed when Tiffany invited me to their cozy restaurant for a food fiesta prior to their Ramadan promotion.
Tiffany Cafe and Restaurant has come up with a new Ramadan menu of international delights. From salads, seafood to sashimi, the luxurious desserts and not forgetting their local favourites counter.
I heard that there will be a 'Live Station' where their chefs deftly whip up a flavourful variety of local bites like Roti John, Mini Murtabak, Ayam Percik and Roti Jala. And for main courses, there will be variety of signatures dishes like the succulent Coffee Chicken Ribs, Milanese Lamb Shank, Braised Thai Oxtail, Ayam Masak Merah, Beef Rendang and Oat Prawns.
For sure I will be enticed to try out their sweet and savoury desserts that
include the temptingly satisfying Pulut Hitam, Bubur Cha Cha, Chocolate Fountain,
French Pastries, Sweet Dates and Assorted Malay Kueh. And guess what? There will be a free flow of Bandung woo-hoo!

Coming here was no hassle with the Chinatown MRT station just 5 minutes away. But searching for the entry to the restaurant is kinda like a mystery. I nearly ended up at the Hotel Staff entrance *chuckles. There were no signs (or probably "blind sighted"), so I followed my intuition and just head to the escalator upwards and then I ended up at a lavish lobby of a hotel.
And then, immediately I saw hustle and bustle of diners coming for their lunch buffet and headed there. Saw my dining companion,the beautiful Valerie and immediately, I was soon embraced by many Chefs and Managers and soon, was showed to the colourful buffet menu onsite.
It's very cozy and comfy ambience with their dimly litted lights twinkling in our presence and it somehow enhanced that whiff of delicious food. Not as wide variety as Carousel but the main concern here is more of highest quality and taste and how they actually preserve that daily to ensure the customers kept coming back for more and with more crowd.
As I was briskly checking out the individual food in the buffet, what attracted me most are their desserts and some fascinating items like Milanesse Lamb shank (it sure look good!) , braised duck (i have always love duck!) ,the steamed chicken (for chicken rice) was just lying there looking so plump and lusciously juicy…and many more.
Fresh bread rolls…
Desserts ooh lala..
Majestic mountain of cream puffs…
Oh wow…Durian Pengat…I love!
Chocolate fondue….
Seafood corner…
Cold sashimi platter…and sushi (below)
I was soon escorted back to my table cos I was drooling endlessly… *chuckles.
And so these are the Ramadan Promotion, are you ready for it? Are you hungry for it? Give me a loud roar of YES!
Alright, I shall continue….
Looking at the rich reddish colour of my watermelon juice, I know that I am in good hands. And slurping it, was oh my…I felt like Im drinking the whole watermelon. Delicious!
First entry was this Roti Jala (translated directly-Roti is bread, Jala is net.)Some called it Roti Kirai. As you can see the lacy designs of this bread is what makes it unique.Either eaten with savoury curry or sweet "Serawa"(coconut milk,brown sugar and pandan leaves). I have eaten many roti jala but to find a good one is tough. I prefer homemade ones.
As I devoured it bit by bit without the gravy, I like its soft creamy texture. But when I dip into the thick dark brownish beef curry, Oh my…I nearly stand up and cheered in happyness. It was delicious! It felt like some Malaysian "makcik" (auntie) cook them with her bare hands! It was fantastic! The meat is so tender yet it was bursting with lots of rich spices in every bite. It work so well with the turmeric yellowish Roti Jala. Suddenly, I was transported back to some Malay village in Malaysia with this delicious attempt.
Next was the Coffee Chicken Ribs. I know you must be wondering, Chicken Ribs? There isnt any meat in there! Well, they used the wings actually to duplicate that ribs thingy. This is their signature dish. And as I taste it, I understand why. It's unique flavour is the robust coffee flavours and sesame seeds kinda work well together.It's slight bitter saltish,sourish sweet…and it compliments the tender chicken meat very well. I guess they must have marinated the chickens in their own unique way…creating a smooth balance in my palate. Delicious!
Ayam masak merah (Chicken in red gravy) is another Malay must have in Hari Raya feast. And I can taste its authenticity in there. Having the chicken fried first with the marinations is a must and they do it well. Tomato sourish and sweetness are just nice for my tongue. I do not really fancy those extra sweet ayam masak merah. I find some of those sold outside are overpoweringly sugary.
Next is Braised Thai Oxtail. Sourish tangy chewy oxtail with hints of the Thai herbs. Slight subdued spicy. I like!And the oat prawns (sorry no upclose pictures because I was busy eating them!) are a delight! They are crunchy and tasty and fragrant..so much so that I ate them with the shells. Mmm…
This Terigu dessert is nice but with the bursting fragrance of the local durians made into pengat, it was somehow transcended into a Vavavoom afffair. I can eat this endlessly. Perhaps, I can eat that mountains of pengat on my own… The difference between this pengat and the previous Kintamani, is that …Kintamani is more creamy and subtle in smell and flavour but this one is fierce! It has a certain durian kick to it! I love!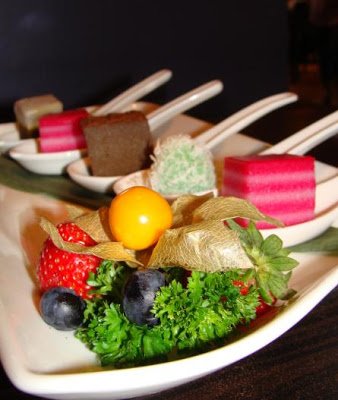 And these savoury kuehs….traditionally Malay with a healthier twist. I like the dark brownish kueh "Kole" (green beans flour) with the tahi minyak (savoury coconut residue which has to be painstakingly cooked over hours!)and the kueh lapis (pinkish white layers) are good!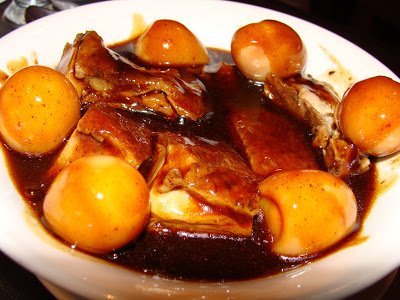 This is an unorthodox entry…I requested this braised duck especially from the buffet table to mine. It is one of the unique items you might find in their daily buffet. I am supposed to taste the buffet after the Ramadan entries but my pants are bursting….and if I continue further, I might need to borrow a "sarong"-yikes!
Sorry, people, I can only taste this braised duck for you. I even left out the Milanese lamb shank!(I need to go back,pronto!) But anyway,the duck was juicy,tender and flavourful with the rich 5 spices Chinese style. I like it but I think, some Malays might be put off by the slight gamey aftertaste/smell. But nevertheless, I like!
So there it was folks…The Ramadan buffet with an interesting twist and turns. I feel that I need to come back for another gastronomical adventure here. One trip aint enough.It's a regret not to taste that Milanese lamb shank…but I will be back! *sweet scent of revenge
Oh, there are also many young couples who actually solemnised their wedding at the ROMM and have their wedding reception here:booked 150 seats. It's a no hassle affair for both parties. And it was quite affordable and lavish buffet and you just need to book them in advance. No extra fees of banquet room or anything. It's really fuss free event. And I heard that there are also freebies like a free night stay for the couple and more. Do check with the hotel for more info.Interesting especially for those who wants to migrate from the "typical voiddeck" reception to something more cosy and high-class but with a reasonable budget in mind.So why not?
Oh, I forgot to mention ,amongst my dining companions,there is an exceptional hero; Mr Fajar…
He kept us intrigued in endless conversations from local legendary food recipes to Singapore mystical history.And if you see Fajar, give him a hi-5 for me! He never leave us hanging except in awe. And lots of giggling laughters always decorate our never ending conversations. Intriguing man, indeed.
More Info:
Lunch (Mon – Sun) 12.00noon to 2.30pm
Dinner (Mon – Sun) 6.00pm to 10.30pm.
The Ramadan buffet dinner is priced at $42.80++ (Adult) and $16.80++ (Children
aged 3 to 11 years). For reservations, please call 6531 5366 or email tiffany.citycentre@furama.com.
Early reservations are recommended (at least a week beforehand) due to its popularity.
Location:
Tiffany Cafe and Restaurant
(Halal-certified)
Furama City Centre
60 Eu Tong Sen Street,
Singapore 059804.
Tel: (65) 6533 3888 Fax: (65) 6534 1489
http://www.furama.com/citycentre/dining.php?s=tiffany
Gratitude:
Thank you to Tiffany Cafe and Restaurant and its wonderful staff from Chefs to Managers to waiters and waitresses who always don a warm bright smiling while serving us continuously.Not forgetting Valerie and Fajar for taking the time to enjoy Tiffany's dining pleasures with me.
Note: Most HALAL-certified restaurants in hotels are actually referring to HALAL kitchen. Because often,there will be liquour sold in the same premises.So take note and do not be alarmed.It's like a foodcentre concept:whereby many non-halal stalls and Halal stalls are under the same roof.
Disclaimer: Food featured are subject to my personal taste. I hold no responsibility for your body's gastronomical adventure.All food shown are either from Halal-certified or Muslim owned establishments(with no liquour/alcoholic beverages).I will try my utmost best to update and maintain the relevant information shown,insya-Allah…but your body,your responsibility.Do ensure that the Halal-certificates are up-to-date,renewed (not expired) and displayed promptly before ordering/consuming. If in doubt,always ask the staff with a smile.Remember: Use ur senses especially your heart.But mainly, ask your iman (faith). Don't assume: A headdress/scarf lady is not equal to HALAL. "No pork no lard" signage is not equal to HALAL. A crescent moon and star symbol is not equal to HALAL. Not all Mediterranean (e.g Turkish kebab), Malaysian, Indonesian cuisines (especially Nasi Padang food) is HALAL. Whatever franchise that is HALAL in Malaysia,Indonesia or in any muslim country does not mean it is HALAL in Singapore or anywhere else. Your body,your responsibility, check its HALAL authenticity. More on disclaimer?Thank you for your kind attention.
(Visited 26 times, 1 visits today)