Country: Singapore
Food: Sponsored
Kintamani Restaurant has been around for more than 20 years. It is one of the pioneer amongst hotel restaurants to be halal-certified. Headed by Chef Kaler and Chef Noldy, together they formed a powerful team in concocting beautiful Balinese recipes.It is located by the Singapore River,in a 4-star business class hotel- Furama RiverFront Hotel.
This Ramadan season,Kintamani offers a buffet spread that you will never forget.The presence of MEGA "Celebrities" such as the Ikan Kakap Merah (Grilled Red Snapper) and the Ketam Chili (Chilli Crab).And not forgetting the luscious Paha Kambing Bakar (Boneless Grilled Lamb Leg), Satay Campur(Mixed Sate), Gudek (Young Jackfruit cooked in our exotic sauce) and the popular Daging Sapi Bakar (Grilled Sirloin Steak) for an authentic, yet unique Indonesian meal.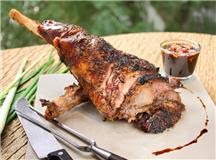 And I heard that the tantalising Ayam Kodok,(only available upon request) will grace its presence too!It is lovingly prepared via a laborious process of skinning and boning a chicken, which is then minced and marinated with a medley of spices and carefully stuffed back into the skin. *smacking the lips
Upon reaching the restaurant, I was embraced by the silhouette of warm cozy ambiance of the restaurant with graceful Indonesian music dancing in the background.
I was greeted and seated by the well-mannered staff cladded uniformly in the elegant kebaya. And on the table, I took the menu and scrutinise it.
It had my name on it. (woo-hoo!My personal menu!) Although I felt like running amok thruout the restaurant in happyness, the surrounding calms my happy vibes and pin me down.
Met many people from the Director to the Celebrity Chefs, to the executives.It was a delight knowing all of them because there seems no air of snobbishness but amazingly like a family as they joke and poke fun of each other, I felt so at ease , like I'm in the arms of my own loving family.
I have met Celebrity Chef Kaler years ago…not personally but via the local television program *chuckles. He was one of the invited guests to whip up some yummy recipes alongside one of my favourite female host.


And today, I met him, he looked as young as ever as back then which I believe was about 5-6 years ago (even before this blog was born!) But regretfully, I had forgotten to ask his "secret recipe" to his youthful looks *smack in the head.
Anyway, as the lunch buffet open its doors, I saw many rushing to pile food on their plates. I was surprised by the popularity of its lunch buffet. I was told that Ministries often have their gatherings here too. So if you want to rub shoulders with them, you should know where to head for lunch/dinner, right? *wink.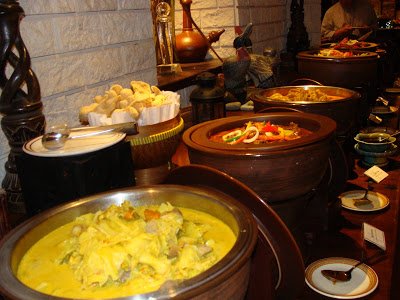 The buffet area wasn't as lavish as most 5 star hotels. But by the look of it,every food that is cooked and displayed are beckoning me in their "intimate invisible voices" to try them out. Seriously, it looked so good! And knowing the fussy me, I often judge a food by its first appearance. I know we are not supposed to judge a book by its cover but so far, it never failed me. If it looked good (to me) , it often taste as good as it looks!


Balinese food is slightly different than the rest of Indonesian food. It is slightly more to the sweeter side and of medium rate spicyness. Aside from its good looking mouth watering freshness,the taste is always balanced out.


I was served with an appetizer of Belinjao crackers (Emping Belinjau).Made from Gnetum Gnemon seeds grounded into flour and then deep-fried.Slight bitterishness is expected but when immersed in the sourish tangy sambal balacan,it was a fiery delight! My drink of cool Avocado juice was immediately served with twirls of chocolates in it. It was creamy! Slight warning-if you want to enjoy the full buffet, do sip it bit by bit cos it really fills you up! (thks Daphne for that tip!)
Next was the Sop Buntut, a clear oxtail soup served in a coconut.I like the light oxtail soup. I find it very subtle and not as oily as I expect it to be, very healthy clear broth with a tinge of sweetness of the coconut embedded in the soup of goodness.As u scrap the tender flesh with the soup and placed mouthfuls in the expecting mouth, it twirls around your mouth in delight,caressing your palate.The meat almost immediately falls off as you lightly de-boned it with the spoon.

After that delightful soup, I was then introduced to delicious hoardes of dishes :Nasi Kuning (yellow rice), Sotong Bakar Jakarta (Charcoal Grill Squid), Ketam Sambal (Chilli Crab), Ikan Bakar Kintamani (Red Snapper charcoal grilled),Udang Goreng Mentega (Buttered tiger prawns), Kailan Sambal (Sauteed Baby Kailan with chilli).

The rice was fragrant with turmeric flavour and coconut milk. The taste was similar to Nasi Lemak but with a slight variation of spices involved in the cooking.As I place a spoonful…as I chew it, it burst its creamy fragrance into the walls of my mouth.Love that delicious fragrance!


What I love are the freshness and the quality of individual seafood platter especially the grilled fresh squids which are lightly grilled and added wih dollops of sweet chilli spicy dark soya sauce.
The Red Snapper was slightly crispy and juicy inside.Dip it in the sauce…Love it! The Chilli Crabs slightly differs from the local flavours. It has a tangy spicy sourish but very light hint of sweet sauce. The innocent prawns are so delicious! Baby Kailans are exceptionally crunchy and well sauteed. But the sauce was so mild ,not even spicy that I did not notice it as chilli sauce. Perhaps, I was so used to the local version of Kailan cooked with oyster sauce gravy.
And no dinner would be complete without the yummy desserts, right? And so I tasted their signature Pengat Duren (Durian Paste),banana and jackfruit fritters and Es Teller as my grand finale.


The pengat durian was creamylicious! It was definitely different from my mom's homemade recipe but I love it! It is not too sweet and so it is great on its own, although you can dip the banana fritters or any pulut (glutinuous rice pastries) into it or you can add mountains of ice shavings or even scoops of ice-creams (there are about 4 flavours of ice-cream in the dessert counter-coconut,jackfruit..) and make your own ice kacang!
The soft banana fritters was eaten with chocolate sauce.I was surprised by the fried jackfruit because I have never eaten it this way.It was nice.The Es teller was interesting with coconut flesh,jackfruits swimming amidst the crushed ice.Refreshing!
If you are one of those weight watchers, I recommend this buffet because the food cooked are as healthy as can be with many being grilled, fats skimmed and even the coconut cream used are not that heavy. So no worries!(Previously they even have brown rice buffet!)
So come on down and book your Ramadan iftar with them! Early reservation is greatly encouraged.
The Ramadan buffet dinner is priced at $42.00++ (Adult) and $22.00++ (Children
aged 5 to 11 years). For reservations, please call 6739 6463 or email
fnb.riverfront@furama.com.
Dining hours:
Lunch (Mon – Sun) 12.00noon to 2.30pm
Dinner (Mon – Sun) 6.00pm to 10.30pm.
Note: This restaurant is popular for their wedding venue and catering. Do book early for your big day!
Location:
Kintamani Indonesian
Halal-certified
Furama RiverFront, Level 3.
405 Havelock Road
Singapore 169633
Gratitude:
Thank you to Furama Riverfront hotel and Kintamani Restaurant and especially to the affectionate gorgeous people behind them…
Thank you for the warm initiatives and quirky chats-Director Lenz and Chef Derrick. For fuelling me with lots of insights about Indonesian food-Chef Kaler, beautiful dames for my dining companionships-Daphne and Valerie (fast correspondence) and not forgetting the service staff (who have pampered us during our dining). Thank you. Love it!
Disclaimer: Food featured are subject to my personal taste. I hold no responsibility for your body's gastronomical adventure.All food shown are either from Halal-certified or Muslim owned establishments(with no liquour/alcoholic beverages).I will try my utmost best to update and maintain the relevant information shown,insya-Allah…but your body,your responsibility.Do ensure that the Halal-certificates are up-to-date,renewed (not expired) and displayed promptly before ordering/consuming. If in doubt,always ask the staff with a smile.Remember: Use ur senses especially your heart.But mainly, ask your iman (faith). Don't assume: A headdress/scarf lady is not equal to HALAL. "No pork no lard" signage is not equal to HALAL. A crescent moon and star symbol is not equal to HALAL. Not all Mediterranean (e.g Turkish kebab), Malaysian, Indonesian cuisines (especially Nasi Padang food) is HALAL. Whatever franchise that is HALAL in Malaysia,Indonesia or in any muslim country does not mean it is HALAL in Singapore or anywhere else. Your body,your responsibility, check its HALAL authenticity.More on disclaimer?Thank you for your kind attention.
(Visited 26 times, 1 visits today)