Country: Singapore
Food: Sponsored
When I think about Korea, the first thing that came to mind is "Bibimbap" and "Kimchi" .But this No.1 Restaurant in Korea serves nothing like those "stereotype food".
Starting humbly in 1995,now they have grown into a powerful franchisor brand locally and internationally. They are passionate about serving quality and very healthy meals to the customers. And not only that,they took pride in their staff well-being and even have a Chicken University to train them up!
I am astounded by their passion and strong motivations. And amazingly, they have created many brands (including BBQ chicken) using chicken as the main ingredient in various delicious flavours and of different unique taste! As a chicken lover, myself, I applaud their ingenuity in their chicken recipes inventions.
I had their BBQ chicken previously (years back) and boy..it was so juicy! I still remember how the juices flowed thru my throat as I munched lovingly at every bite.Today, I'm gonna reminisce those juicy moments and try other fascinating creations. And the best part is-they are all cooked in 100% olive oil. So not a single ounce of guilt shall stop me from devouring loads of chickens today!
Rainy weather and cool breeze greeted me as I make my way to Downtown East. The bright zany colours of the restaurant soon cheered me up and put me in a coat of positive chirpiness. Staff was affectionately warm and accommodating.
As I seated there awaiting my dining guest, I seek refuge into the warmth of the Korean tea that I was sipping.


It was good, kind and embracing just like the Japanese green tea. As my dining date arrived, I was in a deeply trance mood and the thick creamy mushroom soup which arrived soon enough, snugly tickle my palate to warm up its cold fuzzy taste buds.
It was tasty and thick with chewy bits of fresh mushrooms mingling within. Love it especially during this sombre cool temperamental rainy season.
Next was the Jerk BBQ chicken.This "Jamaican Jerk" whole chicken leg was marinated for 24 hours using their unique marination techniques and then cooked over a hardwood charcoal fire and later covered with their authentic Korean style barbecue sauce. Slight twist of spiciness as compared to their Korean Traditional Charbroiled Chicken. And ooh…the meat is so tender and juicy, I felt so compelled to order another one. Mmm…yummy mummy!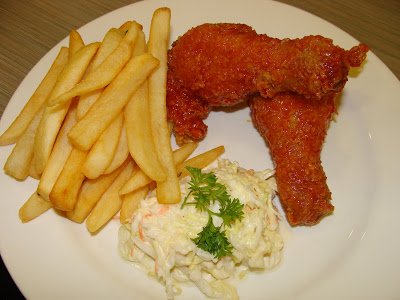 Next was the Hot hot drums. As I took a bite at the fiery reddish drumstick…the crispy batter makes its own soundtrack.Krack, Kriuk…Kriek….First touch, it tasted sweet…but later, u can see my face flushed in pink. As the spiciness slowly rise up from the tongue to the walls of the mouth and showcased thru my innocent face. Ooh..wow, there is a slight "notorious" side to this drumstick. It's not like the bird's eye chilli api type of fieryness. Its much subtle as compared to that, but I love the part, where it slowly shows its "unaware eater",its unique wicked side… Love it!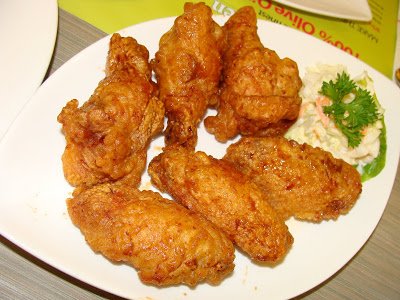 Next is Teri-Soya Wings. They were deliciously seasoned and fried.They were not oily nor smudgingly fattening. Again, as I munched into the cute wings and drumlets, I cannot help but listen to my own munching orchestra symphony. There is a slight tinge of honey sweetness. I believe this will definitely be a winner amongst kids. They will be great as snacks!
Last but not least, as I giggled with my dining companion about our unusual travelling experience worldwide, we were greeted with a "fine mountain" view of the Korean dessert. Somewhat like our usual fare of Ice Kacang but it's definitely a terror!
As I watched my partner mixed the icecream and the iceshavings ….in ultimate horror (although she profusely apologised cos this is the way to eat this dessert), it was definitely a delight with all the red beans morsels beneath and cubes of jelly and mochi swimming in glee in the soggy icecream iceshaven dessert. It wasn't as sweet as icekacang, but it was nice! I particularly like its lethal secret ingredient,which is its unique tiny bits of chewy dough-like called "mochi".
As I uncover more treasures beneath this mountainous dessert (I think its meant for 2-3 people), I realised the restaurant is fast filling up with joyfuls of families and students during this quiet weekday. This restaurant franchise is very family and student friendly. So much so that they have a special discounts/menu for students and families.
They even have a "Reward Card Program'. When you visit any of their outlets and spend $20 dollars, you will receive a reward card with a single stamp. Upon receiving the 3rd stamp, the drink is on the house, 6th stamp to receive a starter and 9th stamp to receive a free main course and their VIP membership Free of Charge!
Rubbing my tummy…All I can say for these Chicken are :
맛있어요 pronounced as "Mat It shur yo" -Delicious in Korean (thks Miriam!)
Ok, I believe you are excited what they have in store for Ramadan,right? *chuckles
Ramadan Promotion:
1 for 1 meals. If you order one meal, you can get another set free! Applies all day (11am-closing) starting now but available only at selected branches: Downtown East,Rivervale Mall and Northpoint.(All other branches are currently having this promotion only from 11am till 5pm)
Break Fasting Promotion :2 SET MEALS..
A) Combo Jumbo- for only $48!! Olive Luxury- 4pcs,Hot Hot Drum – 2pcs,Korean Charbroiled – 2pcs,2 Servings Fries ,2 Servings Coleslaw,4 Soft Drinks,4 Soups,4 Single Scoop Ice Cream and served with Dates (10 pcs)
B) Charbroiled Family $49.90- Korean Charbroiled – 8pcs,2 Servings Fries,2 Servings Coleslaw ,4 Soft Drinks,4 Soups ,4 Single Scoop Ice Cream
Served with Dates (10 pcs)
Come on, grab those chicken now!! And I heard they do delivery too!! woo-hoo!
(Call 1800-888-9282 $3 delivery surcharge,minimum order-$20 11am-9pm )
Location:
View Larger Map
Downtown East (E! Hub)
Pasir Ris Close,
E!Hub Downtown East,
#02-121/122,
Singapore 519599
Tel: 6583 7933 Fax : 6583 6939
(Halal-Certified)
Daily 11am – 10:30pm
http://www.bbq-chicken.com.sg/
Gratitude:
Thank you to BBQ chicken for this opportunity and Miriam for the beautiful dining companionship!
Disclaimer: Food featured are subject to my personal taste. I hold no responsibility for your body's gastronomical adventure.All food shown are either from Halal-certified or Muslim owned establishments(with no liquour/alcoholic beverages).I will try my utmost best to update and maintain the relevant information shown,insya-Allah…but your body,your responsibility.Do ensure that the Halal-certificates are up-to-date,renewed (not expired) and displayed promptly before ordering/consuming. If in doubt,always ask the staff with a smile.Remember: Use ur senses especially your heart.But mainly, ask your iman (faith). Don't assume: A headdress/scarf lady is not equal to HALAL. "No pork no lard" signage is not equal to HALAL. A crescent moon and star symbol is not equal to HALAL. Not all Mediterranean (e.g Turkish kebab), Malaysian, Indonesian cuisines (especially Nasi Padang food) is HALAL. Whatever franchise that is HALAL in Malaysia,Indonesia or in any muslim country does not mean it is HALAL in Singapore or anywhere else. Your body,your responsibility, check its HALAL authenticity.More on disclaimer?Thank you for your kind attention.
(Visited 23 times, 1 visits today)