This Rojak place has been around since my teenage years.I used to frequent here after school with my chinese buddy.She has never tasted mee Kuah and paru (beef lungs)And eversince her first trip here, she has been hooked eversince and still am today(Right, D?)
I seldom eat here cos of the waiting time.But today, since Im in the east, why not sit there like the old good times?
And so I was there around dinner time about 9pm. There were many waiting for their rojak as I can see the many families seating but no food on the table.It reminds me of Ramadan when we are waiting to iftar(breakfasT)The same scenario.
Anyway, u have to wait for 20-30mins for ur rojak.Mee Kuah, Mee goreng and others slightly earlier about 15mins.So make sure u are not that 100% hungry when coming here.Or u will be searching or alternatives….like me, I was actually drooling at the endless puffups BHATTURA that kept coming out of the Indian Vegetarian stall.But no Halal cert though.I can enquire further on the ingredients and whether they add liquor to their cooking.But Im saving my tummy for the Mee Kuah and Rojak. *sigh.
And recently after the meet up, I was again encouraged to start video blogging.The idea has started long time and being enforced by some creative people in SD and then now the fans friends has again reminded me to show my face on videocamera.Im very shy… (hehe!)And so timidly, I tried my first virgin video blogging…(at the bottom of the post).Thank you for viewing!
And so after endlessly waiting for me food, the Mee Kuah arrived.U have to keep coming to the counter or u can wait for them to shout out "MEE KUAH!" And then u hurriedly go to their counter while many pairs of eyes followed u looking at the steaming hot bowl of Mee Kuah.
As I pose and video and take shots, the tummy rumbles and cannot take it anymore and I chow down! Look at the rich consistency of the red gravy.Wow! And I let a spoonful of goodness enter the mouth.Oh mamamia! It rekindles the old teenage school memories.Its the same!! Same shiokness, same delicious flavour….I LOVE!!! I chose Mee hoon, trying to be healthy (hehe!) and the egg has soft yolk..I LIKE!!.
Verdict- 4.5 out of hi-fives
And then the rojak arrives…
To tell the truth I had forgotten how the rojak tasted like in my teenage years…but as compared to the many rojaks that Ive tasted, the results is not that convincing as some from Ayer Rajah,Waterloo and Geylang market (which has closed down).I award it with 4 out of 5 stars.
Perhaps the waiting time increase my expectations higher and higher every minute it was delayed.The fried fritters are fried again thus that explains the crispiness. The rojak gravy is good. I dont really fancy flour fritters (except Sajis) but the white green flour and egg orangey flour fritter is nice.The beef lungs (paru) is more chewy than expected(I prefer the Ayer rajah ones)Overall, it was good!Price is about $11-$13 (a bit costly but ok)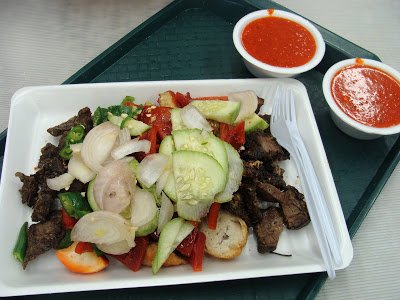 Im trying out video blogging.This is my first time, so pardon the video quality and the host "wooden-ness" and if the teeth aint white enough, do sponsor me the right brand of toothpaste please (thank you!hee!)
ROJAK

MEE KUAH

Al-Mahboob Rojak
S11 food court
Blk 506 Tampines Central 1
(Visited 175 times, 1 visits today)