KHAN restaurant
Location: 149 dunlop street (moved to a bigger premise on 126 Dunlop street)
Only every TUESDAY!!
tel:98534640/62963518
(call to book ur duck curry b4 coming to collect!)
Sorry RAMADAN month- no DUCK! (After raya, insya-Allah have, call firstlah)

Watched me featured it on TV.
DUCK breast

DUCK THIGH!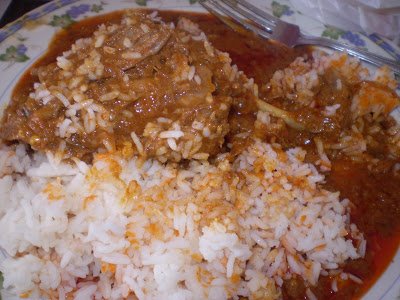 HABIS!(finished!)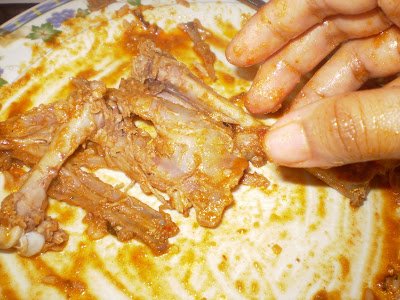 If u had read my previous post , I'm supposed to have a "date" with Mr Ducky. I had a very tiring but "MAGICAL" day. MAgical because of all the tiredness, my reward is the MAGICAL shiok tongue lingering wagging DELICIOUS scrumptious indian DUCK CUrry. Just finished it within minutes..BUT BEST EATEN HOT!! As for me, I lived nearby and so I ta-pow home , the food is still HOT and SHIOK!
But I've been a pesky backpacker mama today because I reached there 1045am. (LOng story..) And it is a small stall easy to find like suggested by BURR singh . But the duck is not ready. And so I pre-ordered first. And then i walk around go to Abd Gafoor mosque seeked some serenity and came back at 11.45am. Still not ready..hhehehe!But they were actually packing many2 packets of rice and curry. Someone may have orderd them.
And then when it was ready at LAST @12pm, they made a QUACKING sound to "mock" me but in a FUN way..ehehhahaah! Anyway they thought i was a foreigner..ME?!! I think because of my backpack baby.
Cost about $5.50 each. Because I bought the lauk only (2 duck and 1 chicken dishes without rice cost about $13+ CHEAP because the duck is quarter per serving.)
GEREKlah, this shop also served shiok fried chicken..a bit spicy though. COme on down..TUESDAY only, they served duck curry……U CAN CHOOSE BREAST OR THIGH.I chose both because I buy 2!!!heeheh!
VERDICT!! the curry is thick and dark brownish in colour. The duck has no "duckish/hamis" smell so those very particular about fishy, "muttony" or "poultry" smell, can try this.. Very nice! I think a quarter duck can be eaten with 2 people. Quite a big cut especially if u asked for the breast/chicken wing part. I often asked for thigh part because i just love THIGHS!!(updated 23/10/07). Oh there is another duck curry on THURSDAY only , from 11am onwards also popular! Within seconds, left 1 or 2 pieces.Price is about the same. Its at TEKKA market>> ZAM-zam.

MAMA>>Now, I believe u….tasting is believing. So finger lickin'…
fyi-do u know that u can rent a bike for 2 hours or more in Little India? Cost about $22 for 2 hours.Somewhere near Abd Gaffoor mosque near the backpacker's hostels…
(Visited 108 times, 1 visits today)