Hjh Maimuinah
Jalan Pisang (closed on sunday)
Near Sultan mosque/arab st
eh, Hjh Maimunah got lodging?


This is another must have! Ayam bbq soaked in sweet chilli soya sauce. Too bad the bbq grilled fish is not ready yet. Grilled fish is famous here! Yummy!


Sambal goreng pengantin (nice but the makciks said tasted like yesterday leftovers/or going to go bad)


Malay salad with sambal belacan (kacang botol,cucumber and salad)


Tapioca leaves in coconut (I like this tapioca leaves! If my mama/makcik cook, 1 big pot can finish! They called me GOAT! heheh!)


fried "Paru" or liver (a bit tough)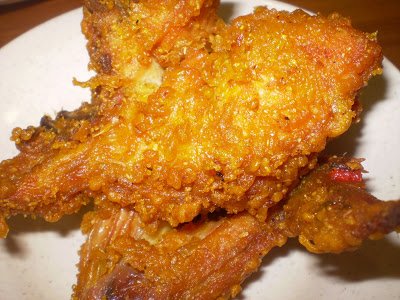 Fried chicken


This is one of my MUST-have dish in HJH Maimunah.It's called "LEMAK SIPUT". Their thick coconut gravy is nicely flvaoured especially when u suck out the snails.(last time POWER!).


Actually the thing inside the shells looked like this. Kinda sluggish tiny wormy looking…but dont think or be disgusted, just suck them out..YUMMY!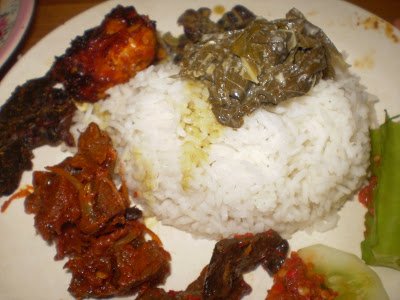 The green bean dessert used to be nice but today its kinda bland…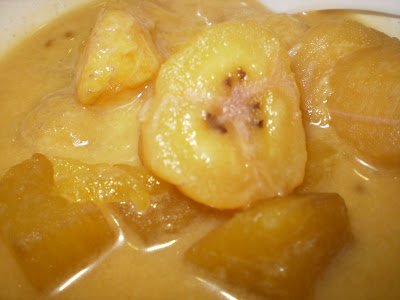 Pengat pisang (banana dessert) is nice! Both dessert and kueh corner is self-service. U can choose and put as much as u like in a bowl/plate.


this keria/donut is NICE! It is made of kledek/sweet potato. Original ingredients!


Kuih abok-abok (abok literally means dust) is nice! the sago is soft with sweet sugary inside wrapped in leaves.


Kuih Koci
VERDICT: After they renovated this branch at Jalan pisang (one month of closure in Ramadan month)the place seems smaller , less seating area but much cleaner kind of foodcourt ambience. But somehow the food has lost its flavour somewhere. Love the old branch and old flavour. The authentic flavour and shiokness is lost somewhere…Not as good as before. The food's freshness also went down. In fact some makciks said some of the food is going to go bad (although we were there as early as 9-10am)that one, I have no comments but I sure am disappointed by the food…but maybe it will improve and go back as usual, who knows? Insya-Allah will try again maybe months later..
After a tummyfull, walk around Arab street to walk off the heavy feeling..


Spa also available


English Islamic bookshop.


Had a very bad experience here. Me and my makciks went around window shopping in Arab street and we saw this shop full of basket thingy. Very nice to browse around problem is that the shop is still partially open . But one makcik like the basket weaning so much that she went inside. We were outside waiting then we ask this rattan swing price. The man with a sombre sullen face just point us the mini price tag sticker, dont even bother to tell us or read out the price to u.
Then he kinda grumble something at the makcik that went inside his shop. He ask her to go walk elsewhere and come back later after he open the shop fully in anger…Kinda rude to tell a customer off that way. U can always tell a customer with a smile. Is it so COSTLY?!! First and the last visit….Too bad, he lost a good customer with a thick wallet and more if that attitude continues…
I realised these stalls in Arab street (not all, some only) have some kind of attitude. They dont like u browsing their items if u dont intend to buy…Even those major shopping centres allow that. How to have more customers with that kind of attitude? How to maju , to succeed? Or is it , they only smile at ang-moh tourists? They need to "re-shape" their sales attitudes. Their number ONE customers should not just be TOURIST but their LOCALs…
p.s: All criticisms here are constructive feedbacks actually so that people can improve…no hard feelings.
(Visited 21 times, 1 visits today)